Pod of pilot whales beached in south Chile; 20 dead and 26 saved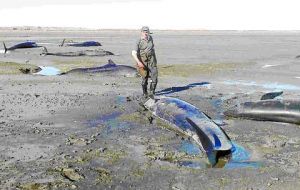 At least twenty pilot whales stranded in the south of Chile died while another twenty six from the pod were rescued by local fishermen, Coast Guard personnel and the high tide, reports La Prensa Austral from Punta Arenas.
The beaching was detected on Sunday at Caleta Susana approximately 90 kilometres north of Punta Arenas and a rescue operation was immediately implemented. A special service vessel "Punta Arenas" was sent to the area to help prevent other cetaceans from stranding.
Pilot whales are cetaceans with two main species: the long finned pilot whale and the short finned pilot whale. The two are not readily distinguished at sea and analysis of the skulls is the best way to tell the difference between them. Between the two species, pilot whales range in waters nearly worldwide with long-finned pilot whales living in cold waters and short-finned pilot whales living in tropical and subtropical waters.
Pilot whales are among the largest of the oceanic dolphins exceeded in size only by the killer whale. They and other large members of the dolphin family are also known as blackfish.
They are highly social and studies suggest that both males and females remain in their mothers' pods, an unusual trait among mammals, also found in certain killer whale communities. Pilot whales are notorious for stranding themselves on beaches, and are among the most common cetacean stranders. Several theories have been proposed to account for this behavior but none has been scientifically conclusive.
The species can measure from three to six meters long and weigh anywhere between a thousand and two thousand kilos.
The Caleta Susana area is now under the supervision of the Chilean Antarctic Institute, the Cequa Foundation and the University of Magallanes which have been taking samples of the dead mammals for scientific purposes. Marine biologists from the Chilean navy and the Fisheries Service are also contributing according to an official release.