Argentina accused UK of sending submarines with nuclear weapons capacity to the Falklands
Tuesday, February 26th 2013 - 00:10 UTC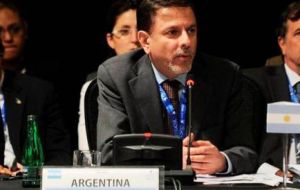 Argentina accused the UK of displacement of submarines with nuclear weapons capacity in the Falkland Islands, violating international treaties that established the South Atlantic zone as free of nuclear arms. The claim was made on Monday at the United Nations Disarmament Conference in Geneva.
"We currently are in an unstable stage of the implementation of the Tlatelolco treaty, which bans nuclear arms in Latin America and the Caribbean. This is being defied by the United Kingdom" said Argentina's Deputy Foreign Minister Eduardo Zuain.
Likewise Zuain recalls that the UK government publicly admitted in December 2003, that the Task Force sent in 1982 to the South Atlantic to recover the disputed Falkland Islands then occupied by the Argentine military, "included vessels with nuclear weapons", which were involved in incidents born out of the manipulation of those weapons.
"This is why Argentina in several opportunities has expressed its concern, before different international fora over the possibility that the UK could have introduced nuclear weapons to the South Atlantic".
Zuain also claimed that all this happens in the framework of the UK involvement in a 'disproportionate and unjustified" military deployment in the Falkland Islands.
The Tlatelolco is an international treaty sponsored by Latin America and the Caribbean which sets the territory as nuclear-free and dates back to 25 April 1969.
Zuain insisted that the Falklands are among the most militarized territories in the world, with more than 1,500 British soldiers and 3,000 citizens.
"Such deployment includes a powerful naval group, state of the art fighter planes, an important command and control centre plus an electronic intelligence gathering base that can monitor all air and sea traffic in the region", claimed the Argentine official.
"We deplore that the UK government so far has not provided requested clarifications on the incidents reported, nor has it given any information which could corroborate or deny recent displacements of nuclear submarines with the capacity to carry atomic weapons".
Zuain added that the significant UK presence in the disputed South Atlantic area not only concerns Argentina, but also the countries of the region and outside the region as are evidence the declarations from the Ibero-American summit, UNASUR, Mercosur, the Rio Group and the Summit of South American and Arab countries, ASPA.
Argentina urged the Conference, that began Monday in Geneva and that will last until March 1, to overcome the stalemate it has been under for the last 15 years and advance in several issues, the Falklands/Malvinas Islands dispute among them.