Argentine born MEP shocks UK politics by abandoning independents and joining the Tories
Tuesday, February 26th 2013 - 00:59 UTC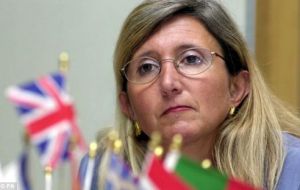 Argentine born Marta Andreasen a UK south east region MEP (Member of the European Parliament) for the UK Independent Party has said she is leaving the party to join the Conservatives.
Marta Andreasen, the party's only female representative at the EU parliament, sent her resignation letter to UKIP leader Nigel Farage – and then launched an attack on her former party leader.
It comes two weeks after she accused the UKIP leader of being "a Stalinist".
Ms Andreasen, 58, said resigning from UKIP to join the Conservatives was not a decision that she took lightly.
In a letter she accused Mr Farage of treating any views other than his own with contempt and offering no real leadership.
Ms Andreasen wrote: "UKIP has good people in it at grassroots who care about the future of the United Kingdom and our place in a renegotiated relationship with Europe.
"Unfortunately, their party leader treats any views, other than his own, with contempt. UKIP is his play thing to mould and shape in any way he sees fit, regardless of the views of others, myself included.
"His actions, surrounding himself with an old boys' club of like-minded sycophants, are dictatorial, in sharp contrast to those of David Cameron, who has shown he can listen, adapt and do what is right for the country, not just for personal gain".
The spectacular U turn took by surprise British politics and was headlines in the UK media particularly when opinion polls are showing that the UKIP which preaches for a divorce with the EU has become the third political force overtaking the liberal-democrats that are in coalition with the ruling Conservatives.
Conservative Party chairman Grant Shapps said he was "delighted" to welcome her to his party.
"She brings a wealth of experience - and a dedication to fight for what's best for the British people in Europe," he said.
A statement from the UKIP leader said: "The Conservative Party deserves what is coming to them. "The woman is impossible."
Ms Andreasen is a chartered accountant from Argentina's Catholic University that in the eighties moved to Spain.