Sea adventure of a lifetime: crew member of a schooner along the Brazilian coast and across to South Africa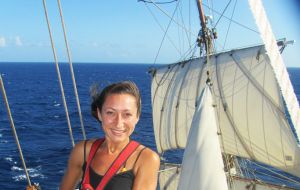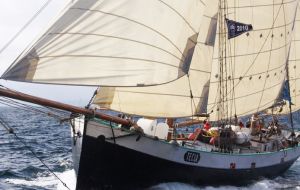 Want to run away to sea? Two incredible Dutch classic tall ships are seeking training crew for an around-the-world sailing voyage following historic trade routes on an epic adventure. Last minute Voyage Crew places are available on a historic journey to sail the old trade routes around the world and the three southern capes during March & April 2013.
Many people think that sailing across an ocean is for very wealthy people, trained sailors or Olympic champions. They are wrong. If you're an adventurous spirit and are able to escape 'normal life' for 35 days on the 31st March and happen to be able to get to Santos then Larissa Clark has found the trip for you.
As part of a voyage that takes in the three southern capes, the two Dutch vessels will be arriving in Salvador, Brazil on the 12th March 2013 and will set sail to Santos on the 14th March 2013 sailing along the tropical Brazilian coast.
The ships Oosterschelde and Tecla will spend a few nights in Santos preparing to set sail across the Atlantic Ocean to Cape Town, South Africa and are seeking individuals to join them during one or more legs of this historic global circumnavigation.
No sailing experience is required. You will be taught by the permanent crew about navigation, sail handling, square rig sailing, etc. All nationalities and ages can participate.
Sailing across an ocean on a traditional tall ship is truly a journey of a lifetime.
If you want to join one or more legs of our world voyage you can contact Another World Adventures www.anotherworldadventures.com / info@anotherworldadventures.com for more info and a booking.
After this voyage the ships will be joined by the Bark Europa who will have crossed from Ushuaia in Argentina. From Cape Town ships will sail together across the Indian Ocean to Australia.
Let me tell you my experience: last year I stood on the dock of the bay in Las Palmas where a 100 year old Dutch tall ship waited patiently for me to gather the courage to step aboard.
I had virtually no sailing experience and had packed my life into a storage unit, given my cat to a friend and put my job on hold so I could visit and travel in Brazil. I intended to get their by boat: a hundred year old sail boat. And I was to be part of the crew.
After 27 days at sea rolling on the Atlantic waves, hauling on the 35 sails and looking out for fishing boats and whales I felt like a new person. The experience was so exhilarating and there were moments when I have never felt more alive.
The three-mast topsail schooner 'Oosterschelde' is the largest restored Dutch sailing ship, and is a monument for Dutch shipbuilding and maritime navigation under sail.
'Oosterschelde' made several impressive journeys since her restoration in 1992. For example, she sailed an earlier journey around the world (finished in 1998), made several expeditions to Spitsbergen and sails to Cape Verde in wintertime. But the ship is also in use in domestic and foreign ports for presentation and promotion activities.
Sailing on board 'Oosterschelde' is a special experience. No one is a passenger, but is part of the guest crew. We will learn you all about sailing, steering and navigating the ship.
'Tecla' was built in 1915 in Vlaardingen, to plunder the rich North Sea fishing zones of herring. Under the name Graaf van Limburg Stirum, she fished as one of the last true commercial sailing vessels for 10 years before being forced into early retirement in Katwijk Harbour, Holland. In 1935 she was sold to Denmark and sailed the coastal waters of the Denmark transporting heavy grain, stone and turf between the Danish islands. 'Tecla' returned to Holland in the 1979 to be re-fitted as a charter sailing vessel. In 1989 she started sailing and has explored Irish, French and British waters and after sailing a Tall Ships Regatta in 2007 the owners got addicted to sailing the Tall Ships' Races.
Together the family of Jan, Jannette, Gijs and Jet, muster 65 years of traditional charter sailing experience and invite everybody to join them aboard to be a part of the history of 'Tecla'.
From
Till
Days
Description
Price
Ship
14th march
27th March
15
SALVADOR To SANTOS.
A comfortable cruise along the green coast of Brazil. We will, of course, call at the idyllic bay of Ilha Grande and Paraty.
From €1,650 (approx..4,268.98 BRL)
For voyage including all food and non-alcoholic drinks. Flights and insurance extra
Tecla & Oosterchelde
31st March
04 May
35
SANTOS To CAPETOWN.
An Atlantic crossing. We will head south until we loose the southeast tradewinds and find some westerly winds. It gets colder and the Sealife changes on these lattitudes. Watching the Albatrosses we will make a stop at Tristan da Cunha before we arrive in Cape Town.
From 2,975 Euros (approx. 7,692.27 BRL)
For voyage including all food and non-alcoholic drinks. Flights and insurance extra
Tecla & Oosterschelde
info@anotherworldadventures.com