Tolerance of bribery and violation of the law in the Americas
Tuesday, February 26th 2013 - 09:27 UTC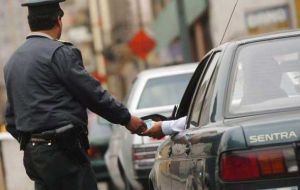 Where disregarding the law is normal rather than an aberration, citizens are more likely to see paying a bribe as in their best interest and where obeying the law is the norm and disobeying it constitutes deviant behaviour, citizens are more likely to reject bribery, is one of the foundations for understanding the phenomenon, according to the Americas Barometer Insights in one of its latest papers titled, "tolerance of bribery and violation of the law".
If this argument holds, it uncovers a rationale of bribery and informs the design of reforms meant to address it. Thus identifying who sees bribes as justified and why is critical, and the Insights report investigates attitudes towards bribery using the following question: "Do you think given the way things are, sometimes paying a bribe is justified?"
The 2012 Americas Barometer survey by LAPOP, collected the opinions from 39.380 respondents from 25 countries requiring the simple answer: Yes or No.
In most countries, less than one in six respondents feel paying bribes is sometimes justifiable. The range, however, spans from a low of 4.8% to a high of 53.9% in Haiti. In six countries: Guyana, Trinidad and Tobago, Mexico, Colombia, Jamaica, Ecuador, at least 20% say bribe-paying can be justified.
In short, across countries there is a great deal of variation in the belief that paying a bribe is justifiable at times. Accounting for confidence intervals, these 2012 levels differ very little from those reported in 2010. The glaring exception is Haiti, which saw a 22 percentage-point increase.
A second immediate group of ten countries includes Ecuador that figures with 19.5%; Dominican Republic, 17.2%; Bolivia, 15.3%, Paraguay, 14.4%, Suriname, 14%; Peru, 13.7%; Nicaragua, 13%; Belize, 12.6%; Costa Rica, 12.6% and Honduras, 11.7%.
Finally El Salvador, 9.5%; Brazil, 9.1%; Venezuela, 8.4%; Argentina and Uruguay, 8.3%; Panama, 8.2%; Chile, 7.1% and Guatemala, 4.8%.
Why is bribery more justifiable in some countries and to some people in the Americas?
The report suggests bribe justification is a strategic response to citizens' expectations of corrupt behaviour on the part of state actors. These expectations are shaped by law-abiding norms that vary with levels of rule of law in the hemisphere.
Results indicate that bribery has a self-perpetuating mechanism: if the rule of law is so weak that state actors are brazen enough to solicit bribes and self-interested citizens feel justified in paying them, the supply and demand of bribery will converge to form strong social behavioural norms.
"Hence we should not expect anti-bribery or anti-corruption norms to spring automatically from the processes of modernization and democracy. It will require state actors to change their behaviour and, in so doing, reshape citizens' expectations about them. Until then, we should expect many citizens to continue to see paying the occasional bribe as in their own best interest and to act accordingly", concludes the report.
Drastic behavioural modifications such as these often require new institutional incentives, both carrots and sticks. In the last two decades governments, aid and development agencies, and non-governmental organizations have made huge investments in anti-corruption campaigns, judicial system overhauls, and police and security reforms.
According to this report, such governance and rule of law reforms are critical to beginning a virtuous cycle of law obedience that will generate anti-corruption norms that, over time, would make bribery a non-starter in the Americas.