Jack Lew closer to becoming US Treasury Secretary; Senate votes Hagel for the Pentagon
Wednesday, February 27th 2013 - 05:10 UTC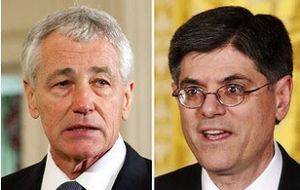 Jack Lew won the Senate Finance Committee's approval to become US Treasury secretary and a full vote in the upper house confirmed Chuck Hagel as the next US defense secretary. The Senate approved the nomination Tuesday in a vote of 58 to 41.
Senate Majority Leader Harry Reid said he expects the full Senate to take up the nomination of Lew later this week. Lew, 57, President Barack Obama's former chief of staff and ex-budget director, will replace Timothy F. Geithner, who left last month.
Lew, praised for his knowledge of the federal budget by lawmakers on both sides of the aisle, has been advocating for Obama's plan to replace across-the-board reductions with a mix of spending cuts and changes such as eliminating tax breaks for oil and gas companies. But Republicans insist on deficit reduction achieved by spending cuts alone.
Unless the US Congress agrees on an alternative way to limit the deficit, reductions worth $85 billion for this year will start in three days, leading administration officials to predict furloughs of 800,000 of the Pentagon's civilian employees, cuts in spending on child nutrition and housing vouchers.
Lew, testifying to the panel on Feb. 13, emphasized his ability to work across party lines and spoke in favor of revamping the corporate tax system to lower rates and eliminate loopholes.
Republican Senator Charles Grassley of Iowa criticized Lew for perks he received when working at New York University and Citigroup Inc. Lew worked as a Citigroup executive from 2006 before joining the Obama administration at the State Department in 2009. He served as managing director and chief operating officer of Citi Global Wealth Management and in 2008 he moved to Citi Alternative Investments, which managed billions of dollars in private-equity and hedge-fund investments.
Grassley questioned Lew's personal involvement in a fund in the Cayman Islands and a 940.000 dollars bonus that Lew received in January 2009 as Citigroup was receiving federal bailout funds. Lew said he didn't know the fund, offered to him as a Citigroup employee had a Cayman Islands address and that he was paid in the same manner as other private-sector employees in similar jobs.
"Mr. Lew has been less than forthcoming about his time at Citigroup and NYU," Orrin Hatch, top Republican on the panel, said on Tuesday. "Indeed, after extensive questioning, we still know very little about these areas of his record. This is problematic and I plan to go into these concerns more fully when the nomination is debated on the floor."
Hatch was among the Republicans on the panel voting for Lew's nomination while Grassley voted against
In a related event Chuck Hagel was voted as the next US Defense Secretary. The action came hours after the Senate voted to end debate on the nomination, clearing the way for confirmation in the Democrat-controlled Senate.
President Obama praised the confirmation, saying the United States will, in his words, "have the Defense Secretary our nation needs and the leaders our troops deserve." A White House statement called the decorated former infantry soldier "an American patriot."
Hagel, who used to be a Republican US Senator, faced criticism from his former colleagues. Senate Republicans delayed a full vote on Hagel nomination nearly two weeks ago, raising concerns about his views on the Middle East and the size of the US nuclear arsenal.
Some Republicans also accused Hagel of being too lenient toward Iran and too critical of Israel. Critics also found fault with him for opposing the 2007 U.S. troop surge in Iraq. Hagel succeeds retiring Pentagon chief Leon Panetta.