Major global effort involving Interpol launched to eliminate IUU fishing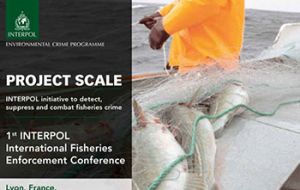 Interpol Environmental Crime Program, with support from the Pew Charitable Trusts, the Norwegian Ministry of Foreign Affairs and the Norwegian Agency for Development Cooperation, this week announced the beginning of a massive global movement -- Project SCALE -- to cull illegal fishing and associated crimes.
Anthony Long, head of the Pew Charitable Trust's global campaign to end illegal fishing, said that one-fifth of the fish caught is believed to be illegal, unreported or unregulated (IUU).
IUU and related illegal activities have an estimated worth of between 10 billion and 23 billion dollars a year.
"Project SCALE is an important component of a proposed global system to stop fisheries crime" said Joshua Reichert, an executive VP at Pew, who heads the organisation's environmental work.
"Illegal fishing threatens the interests of legitimate fishermen worldwide and undermines the ability of the global community to properly manage fisheries in ways that will ensure a healthy future for this vitally important resource."
Pirate fishers are also involved in crimes such as money laundering, tax evasion and fraud, all of which INTERPOL wants to eliminate.
David Higgins, manager of INTERPOL Environmental Crime Program, said the project stems from INTERPOL efforts to protect species and habitat through stern enforcement.
"With INTERPOL network, capacity building and intelligence-led enforcement support, we will contribute to a more focused and coordinated global effort to combat transnational and organized fisheries crime. We aim to build on the global momentum to target this criminal activity, and we are committed to assisting our member countries and partners in their efforts to fight criminal networks that exploit our marine natural resources," he stated.
Project SCALE intends to:
• Raise awareness about fisheries crime and its consequences;
• Establish National Environmental Security Task Forces to ensure cooperation on fisheries crime within and across borders;
• Assess the needs of countries that are particularly vulnerable to illegal fishing;
• Suppress criminal activity, disrupt trafficking routes and ensure that national laws and policies are enforced;
• Increase surveillance to better police fisheries crimes;
• Gather better data on fisheries crime to help improve monitoring and enforcement.
Thanks to Pew and the Norwegian Government's support, INTERPOL will run targeted monitoring and enforcement operations focused on vulnerable regions such as West and Southeast Africa -- where trawlers from faraway ports often go to fish -- and, through its member countries' National Central Bureau, boost marine enforcement known to ultimately improve fisheries compliance and enforcement across the globe.
INTERPOL has also put together a Fisheries Crime Working Group, which will hold its first meeting in Lyon, France this week.
As far as how consumers can help, Higgins said "consumers should be more demanding, since the more consumers know and push for properly labelled food, the less mislabelling there will be".(FIS).-