Argentine soy bean crop despite late rainfall expected to reach 48 million tons
Thursday, February 28th 2013 - 01:50 UTC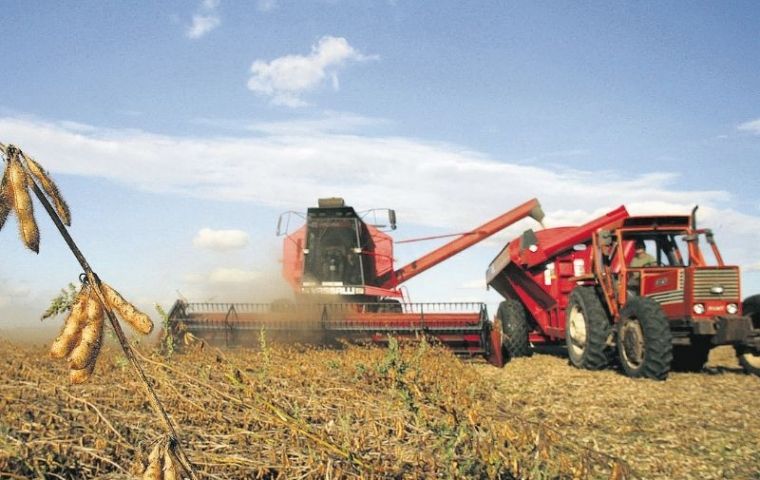 The Rosario Chamber of Commerce estimates Argentina's soy production at 48 million tons, which is 9.4% below the 2012/13 harvest estimate of January, 53 million tons, mainly because of a prolonged drought which extended from early December to mid February.
At the beginning of the season the Argentine government and private analysts anticipated the crop to reach 55 million dons but nobody expected the drought to last so long. Nevertheless if the climate helps with the 48 million tons, it will also be a record crop, 18.5% above the 40.5 million tons of 2011/12.
"With the prolongation of the drought until mid February, the number of days without rainfall equalled those of the 2011/12 campaign affecting the crops of corn and soy beans" according to the Strategic Guide for Agriculture, a report from the Rosario Chamber of Commerce.
"The volume of soy production is again down, this time to 48 million tons taking into account an average yield of 2.500 kilos per hectare. Reductions in production are particularly significant in the north-west of Argentina, the province of Salta with a drought that repeats for the second year running, and in the provinces of Buenos Aires and Cordoba, with unit productions of 2.500 and 2.600 kilos per hectare respectively", adds the document.
However despite the fall in the crop estimate, the report says that rainfall in recent days in the core agriculture area helped bring relief to soybeans.
"This rainfall is very important, it helps with a floor to yields, but unfortunately they arrived late to sustain earlier expectations", points out the report.
The lack of sufficient rainfall also had an impact on corn. The report lowered the crop estimate in a million tons the original forecast of 25.5 million tons. In the north of Argentina rainfall was absent in the crucial sowing months which meant some could not proceed and others were planted with 20/30 days delay.
The Buenos Aires Cereals Exchange is slightly more optimistic and estimate the soy crop will reach 50 million tons.