Brazilian market suffers the impact of iron-ore producer Vale record loss in fourth quarter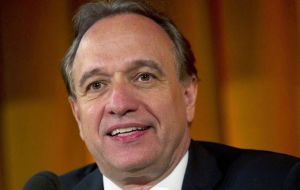 Brazil's Bovespa-index futures declined with the equity gauge poised for its biggest monthly drop since May, after iron-ore producer Vale SA posted a record loss in the fourth quarter.
Vale, the heaviest weighted stock on the Bovespa index, posted a fourth-quarter net loss of 2.65 billion dollars, or 51 cents a share, compared with a profit of 4.67 billion, or 91 cents, a year earlier, the Rio de Janeiro-based company said in a statement.
Earnings before interest, taxes, depreciation and amortization, or adjusted Ebitda, declined 41% to 4.39bn dollars.
The performance of the world's largest iron- ore producer which lost money for the first time in a decade is linked to drastic measures from CEO Murilo Ferreira who dropped unprofitable projects and wrote down assets.
Ferreira, who took over as CEO in May 2011, is selling assets and cutting spending after a two-year metals boom led by China stalled, causing iron-ore prices to slump 55% from a February 2011 peak to a three-year low in September, before rebounding. The decline helped trigger more than $60 billion in write downs at companies from BHP Billiton to Rio Tinto Group.
Vale shares had declined 16% in US dollar terms since reaching a nine-month high on January 2. Iron-ore prices have rebounded 75% from September to reach a 16-month high on Feb. 20, as growth in China, the biggest metals consumer, accelerates. Prices averaged 120 dollars a ton in the fourth quarter, a 7.2% increase from the previous quarter and 15% lower than a year earlier, according to a price index compiled by The Steel Index Ltd.
Vale is wrapping up an annual review of asset values. The company said on Dec. 20 it would book a 4.2bn dollars fourth- quarter pre-tax charge after lowering the valuation of its Onca Puma nickel project in Brazil and its stake in aluminium producer Norsk Hydro. Another write-down of between 50 million and 100 million for several assets was also announced.
"Our intention is to clean up the balance sheet quite soon" Chief Financial Officer Luciano Siani during a presentation in London last December.
CEO Ferreira began reversing predecessor Roger Agnelli's acquisition strategy a year after he took charge. Vale announced 1.47b of asset sales last year, including a coal mine in Colombia, while putting potash projects on hold in Argentina and Canada.
Ferreira is also cleaning up liabilities from tax disputes that have led Vale shares to trail those of its main rivals. In December it agreed to pay about 560 million to settle Swiss and Brazilian tax disputes, of which about 460 million have been booked in the fourth quarter.
While analysts anticipate the impact of Vale's write-downs on its earnings, the company is set to report an improving operating performance, Banco Santander SA analysts Felipe Reis and Alex Sciacio said.
After having increased its investments for several years and overpaid for acquisitions, Vale is now adapting to a new reality, S&P Capital IQ's Larkin said. "Vale has made it very clear that they are going to be more disciplined about the capital allocation process," he said.