Major coup and power consolidation for Mexico's new administration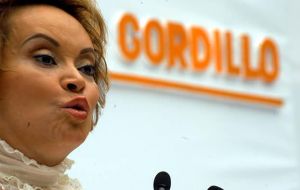 The head of Mexico's teachers' union and one of the country's most powerful women has been charged with embezzling up to 200 million dollars to fund a lavish lifestyle of shopping sprees and plastic surgery, officials said. The action is seen as a major coup for the three-month old administration of Enrique President Peña Nieto.
Elba Esther Gordillo, 68, who wielded enormous political clout and was entrusted with union funds, was arraigned on Wednesday after being arrested a day earlier at the Toluca airport some 60km west of the Mexican capital.
Gordillo, dressed in a white turtleneck blouse, looked down and occasionally shrugged as she heard the charges against her, speaking in monosyllables and referring questions to her lawyers. At the defence's request the judge will have six days, the maximum allowed to examine evidence and determine whether to proceed with a trial.
Attorney General Jose Murillo Karam told reporters that Gordillo was arrested after the Finance Ministry detected unusual transactions in union bank accounts.
An audit found withdrawals of some two billion Mx Pesos (about 154m dollars) from two accounts belonging to the National Union of Education Workers (SNTE), as well as multimillion peso purchases on a credit card in her name.
Education workers across Mexico are reported to pay about 10 million dollars per month in union dues, and Gordillo had de facto control over the assignment of teaching positions across Mexico.
Authorities discovered that a great deal of the embezzled money went towards plastic surgery, the acquisition of real estate and artworks, and shopping at luxury stores in the United States - including one 3 million dollars spending spree at a US department store.
Gordillo's acquisitions are said to also include two homes in San Diego, California, just north of the Mexican border. Two million dollars of union funds, meanwhile, were transferred into bank accounts in Switzerland and Liechtenstein.
Over the years, Gordillo, known to many simply as "La Maestra" ("The Teacher") came to be seen as a fearsome but sometimes charming figure that possessed keen political instincts. The union she led with an iron fist since 1989 is among the largest in Latin America and was key in catapulting Gordillo to wield political power.
Gordillo "is exceptionally seductive as a politician," said Mexico's former foreign minister, esteemed author Jorge Castaeda, writing about her in 2011. He said she is a contradictory figure with "a terrible reputation but at the same time, ideas that are surprisingly modern and democratic".
A woman of humble origins, Gordillo was born in a rural area of Chiapas in south-eastern Mexico. She worked as a waitress and as a teacher, entering into a relationship with the union's then-leader Carlos Jonguitud Barrios. Her detractors say she eventually double-crossed him and managed to take the position for herself.
Gordillo was secretary general of the powerful Institutional Revolutionary Party (PRI) - which regained power last December - from 2002 to 2005. With the strength of the union behind her, she split with the PRI and went on to form the New Alliance Party.
Showing uncanny political timing, she had forged close ties with President Vicente Fox after his National Action Party (PAN) came in to political power in 2000. She also supported his successor: her contribution to Felipe Calderon's tight presidential victory in 2006 made her a privileged partner of the former government with a strong influence over Mexican education matters.
But with the swearing-in of President Enrique Peña Nieto last December, marking the return to power of the PRI after a 12-year absence, Gordillo found herself at odds with Education Minister Emilio Chuayffet.
The arrest of Gordillo, along with three others, came one day after the enactment of education reform in a country of nearly 112 million where one-third of children don't complete elementary school.
Gordillo's daughter, Senator Monica Arriolo of the New Alliance Party, said in a statement she was confident that the prosecution would "act in strict accordance with the law and conduct a transparent and fair investigation" that wouldn't be swayed by the heightened politicization of the case.