Shell suspends offshore drilling program in the Arctic for the rest of 2013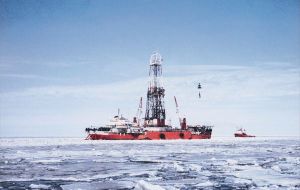 Royal Dutch Shell has said that it will suspend its offshore drilling program in the Arctic for the rest of 2013 in order to give time to ensure safety. The decision to pause drilling for oil in the Chukchi and Beaufort Seas off Alaska was widely expected, following a catalogue of problems last year.
The US Department of Justice is looking into safety failures at one rig. The move "will give us time to ensure the readiness of all our equipment and people", said Marvin Odum of Shell Oil.
"We've made progress in Alaska, but this is a long-term program that we are pursuing in a safe and measured way," he added.
Shell first obtained licences from the US Department of the Interior in 2005 to explore the Arctic Ocean off the northern and north-western coasts of Alaska. It has since spent 4.5bn dollars culminating in two exploratory wells completed during the short summer drilling season last year.
But Shell ran into multiple problems during the drilling program: the company failed to have a spill-response barge on site before the drills reached oil-bearing zones, as it had promised, and a containment dome was damaged during testing.
Drilling in the Chukchi Sea had to be called off less than 24 hours after it began on 9 September due to a major ice floe; a fire broke out on the Noble Discoverer rig that Shell had hired for the Chukchi Sea drilling, and the US Coast Guard discovered 16 safety violations on board, which have now been passed to the justice department; the Kulluk, a circular drilling barge, broke away from its towing vessel and ran aground on its way to a shipyard in Washington State in late December
The decision to abort drilling this year may in part be due to the fact that both drilling rigs are likely to be stuck in East Asia, undergoing repairs. Shell has also faced widespread opposition to its activities from environmental activists.
"This is the first good decision we've seen from Shell," said Mike le Vine of Oceana, a group which focuses on ocean conservation.
"Given the disastrous 2012 season, our government agencies must take advantage of this opportunity to reassess the way decisions are made about our ocean resources and to reconsider the commitment to explore for oil in the Arctic Ocean."
US Interior Secretary Ken Salazar has said his department will carry out a high-level assessment of what when wrong with Shell's operations last year.