World's richest man says Argentina is great and predictable: "you can never get hold of dollars"
Friday, March 1st 2013 - 00:11 UTC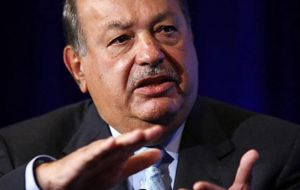 Mexico's Carlos Slim, probably the world's richest man according to Forbes has referred to Argentina with certain irony when he was asked about the current foreign currency restrictions and changing regulatory framework implemented by the government of President Cristina Fernandez.
"I love Argentina, a great magnificent country. It is highly predictable place: you can always be sure that in Argentina you can never have access to US dollars", said the Mexican telecommunications and construction tycoon.
This is a decisive year for Carlos Slim since the Mexican government could open the telecommunications market to competition putting an end to his monopoly, but at the same time if President Enrique Peña Nieto makes the decision, he must also do something similar with the television market and this could benefit him.
In an interview with the Financial Times and reproduced in the Argentine newspaper El Cronista, Slim who did not have a fortunate start in 2013 since he lost 2 billion Euros in Europe as a consequence of a failed subscription issue and the collapse of the shares from Holland's' telecommunication corporation KPN, was not entirely discouraged because "fortunately" he never had the virtue of turning everything he touches into gold.
Last June and a few weeks after Argentina seized a majority stake in YPF, from Spain's Repsol, President Cristina Fernandez celebrated the fact that Slim had invested in the now Argentine company by acquiring an 8.4% stake which belonged to the Eskenazi family, close business friends of the Kirchner couple.
In effect the operation had been started before the nationalization of YPF, and not long after the son of Slim said that his father's participation in YPF was "circumstantial".