Brazilian special forces take control of Rio 'favelas' close to the airport and seaport
Monday, March 4th 2013 - 05:55 UTC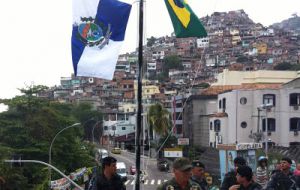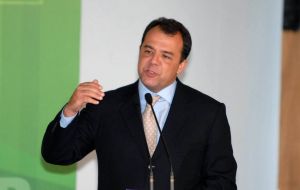 Brazilian security forces seized control of two crime-ridden 'favelas' slums near Rio do Janeiro's international airport and seaport Sunday in a new bid to drive out drug traffickers ahead of the 2014 World Cup and the 2016 summer Olympics.
More than 1.500 police and navy commandos backed by armored vehicles made their way into the narrow streets of the Caju complex in a dawn operation that lasted about 25 minutes and went off without a hitch.
Some 200 civilian police officers simultaneously occupied the Barreira do Vasco shantytown, the public security secretariat said. Police said they encountered no resistance and no shots were fired in the two shantytowns which have a combined population of about 20.000.
Twelve people were arrested and quantities of weapons and drugs were seized. Police also said that prior to Sunday's operation, intelligence work led to the arrests of 284 adults and 36 minors in the area.
They urged residents to report criminals as well as drug and arms caches in their communities.
The flags of Brazil and Rio de Janeiro state were hoisted at a special ceremony to symbolize the restoration of government control over the area, which for years had been under the sway of drug traffickers.
"The operation has been a success," military police Colonel Frederico Caldas told O Globo television. "This very important, strategic area was taken without firing a shot".
Rio state Governor Sergio Cabral also hailed the successful operation. "It's a renaissance of the area" and "it frees communities from the power (of criminals)," he said.
Members of Rio's feared military police battalion BOPE are to occupy the zone until a specially-trained police force known as UPP can be deployed.
The operation in Caju was part of a government strategy to combat crime and reassert full control of the Rio de Janeiro metropolis ahead of the foorball World Cup of 2014 and the summer Olympic Games two years later.
In 2008, Rio authorities began cleaning up lawless 'favelas', or slums, one by one, hoping to finish the job before the big sporting events that are likely to bring to Rio millions of tourists.
Officials say the next target will be the violence-plagued Mare complex, a major drug trafficking center.
The area, home to 75.000 people and located near the airport, is largely controlled by drug gangs and militia units. It is ringed by freeways, including one that provides access to Galeao international airport.
So far, 30 UPP, or Police Pacification Units, with more than 8.000 officers have been deployed and are protecting more than half of the two million people who live in local slums.
The previous police occupation took place last October in the Jacarezinho and Manguinhos favelas. Authorities said their goal is to have 40 UPPs in place by 2014.
Violence has receded since police launched operations in the slums, including in Rocinha, Brazil's largest shantytown.