C24 president insists Falklands dispute is over sovereignty, not self determination
Monday, March 4th 2013 - 05:34 UTC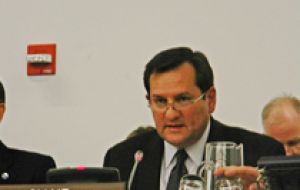 The UN Decolonisation Committee has not received any further requests on the Falklands/Malvinas issue, and "there is no such procedure as self-determination regarding the Islands dispute", according to the C24 president Diego Morejón Pazmiño, standing Ecuadorean ambassador before the UN.
C24 is responsible for examining and accompanying the different processes leading to finalize with colonies or "non autonomous territories".
Ambassador Morejón Pazmiño statement comes just a few days before the Falkland Islands holds a referendum, March 10/11 to decide on their political status and future, basically if they want to remain as a British Overseas Territory.
"I think that the people that live in the Islands can do whatever they wish. They have that right and it can't be denied. But nevertheless the discussion is not self determination but sovereignty over the Islands according to the UN documentation", said Ambassador Morejon Pazmiño.
"Falklands/Malvinas figures in the list of non autonomous territories because of a unilateral decision from the UK going back to 1946. If you check the list you will see it figures as a Territory, with the administrative power, the UK. There in that paper is the dependency relation, but several UN resolutions have established the need for the two countries to sit and discuss the issue as of sovereignty. And when the issue refers to sovereignty, the Decolonization Committee has nothing to do or even suggest. Furthermore the issue should not even exist because if the Malvinas are Argentine, and that is how Ecuador looks at the issue, as such it should be expressed and defined permanently".
Ambassador Morejon Pazmiño who allegedly is an expert in the Falklands/Malvinas dispute was recently re-elected by acclamation to continue as president of the C24, which means he will be holding the post until 2014.