Each annual Antarctic whaling season costs Japanese taxpayers 10 million dollars, says IFAW
Tuesday, March 5th 2013 - 04:47 UTC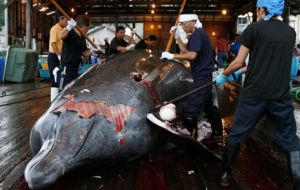 Japan's declining appetite for whale meat is nothing new; but is the country also losing patience with its whaling industry? The answer apparently is yes, according to a new report that highlights the huge cost to the Japanese taxpayer of sustaining its whaling fleet. Without government subsidies, the industry would collapse, it said.
"Whaling is an unprofitable business that can survive only with substantial subsidies and one that caters to an increasingly shrinking and aging market," according to the report, released earlier this month by the International Fund for Animal Welfare (IFAW).
According to data provided for the first time by fisheries authorities, Japan's government has approved subsidies totaling more than 30 billion Yen (320 million dollars) between 1987 and last year.
The fleet of between four and six vessels that leaves for the Antarctic every winter costs the taxpayer about 10 million dollars a year, according to IFAW. Last year the subsidy included 2.28 billion Yen (20m) in funds intended to aid the reconstruction of the region devastated by the March 2011 tsunami. The government's excuse: that some of the affected communities had a tradition of coastal whale hunting.
With thousands of tons of whale meat left unsold amid a dramatic decline in consumption, the government can never hope to recoup its investment, said Patrick Ramage, director of IFAW whale program.
"Whaling is an economic loser in the 21st century," he said. "We have been saying for years that whaling has no economic future, but here it is in black and white in this report."
The document details the steady decline in whale meat consumption since its peak in the 1960s, and the rising cost of keeping the aging whaling fleet seaworthy.
Polling conducted on IFAW behalf by E-Square, a Japanese public research company, shows that whale meat consumption has fallen to about 1% of its peak in the 1960s. Current stockpiles of unsold produce have increased to nearly 5.000 metric tons, about four times greater than they were 15 years ago.
In late 2011, the government tried to shift some of the stockpile by holding public auctions, yet 75% of the meat remained unsold, according to figures compiled by the journalist Junko Sakuma.
The Cetacean Research Institute, a quasi-governmental body that oversees the scientific hunts, claims the aims of the whaling program are strictly scientific and that it was never intended as a commercial venture.
The International Whaling Commission (IWC) banned commercial whaling in 1986, but a clause in the moratorium allows Japan to kill more than 900 whales every winter and to sell the meat on the open market. The idea is to use the profits to fund the following winter's slaughter in the Southern Ocean.
"Shrinking demand and slow sales show that this is a declining industry," said Toru Watanabe, a policy analyst who chaired the team that drafted the E-Square report. "For these and other structural reasons, whaling is not economically sustainable."
Despite claims by supporters that whale consumption is a deep-seated culinary tradition, the biggest obstacle in the way of a commercially viable industry is the Japanese consumer: almost 89% of Japanese had not bought whale meat in the previous 12 months, according to an IFAW survey released late last year.
In addition, more than 50% of Japanese had no opinion on their country's whaling program, while 26.8% said they supported it and 18.5% were opposed.
Those figures hardly point to an emphatic rejection of a tradition its supporters say stretches back hundreds of years, but campaigners claim the public's patience with large-scale Antarctic whaling is wearing thin.
"Even people who support whaling oppose the use of taxpayer's money going into the industry, particularly money that was intended for the tsunami recovery effort," said Naoko Funahashi, IFAW representative in Japan.
The report's release coincided with signs of yet another showdown between the Japanese whaling fleet and activists from the marine conservation group Sea Shepherd in the Antarctic, and fresh attempts by Australia to remove the whalers from its exclusive economic zone. Canberra has also taken its campaign to stop the research hunts to the International Court of Justice, where a ruling could come later this year.
Could Sea Shepherd's "sabotage" tactics, which include hurling rancid butter on to the decks of harpoon vessels, actually be harming the anti-whaling cause? Watanabe believes the group, described as "eco-terrorists" by the whaling lobby, may have hindered the conservationist cause. "Violent incidents at sea actually help Japan promote whaling at home," he said.
The industry is also protected by a "committed core group" of fisheries agency bureaucrats and politicians who use international criticism to boost their case for lethal research, according to IFAW Ramage.
"They've effectively married the funding issue to an argument that says anyone who criticizes whaling is anti-Japanese or that whale meat is fundamental to Japanese food culture," he said. "But this report shows that the Japanese people don't buy that argument any more than they're buying whale meat."
That argument doesn't convince Professor Masakuyi Komatsu, a former agriculture ministry official who believes many Japanese consumers have been priced out of the market. To bring prices down, he believes the IWC ban should be lifted so that Japan can catch at least 1.000 whales a year.
"For older Japanese, whale meat is something special that you are happy to pay a premium for," said Komatsu, who teaches ocean and marine resource policy at the national graduate institute for policy studies in Tokyo.
"But young people have never experienced the taste. It's not special to them and there are plenty of other sources of protein they can turn to. Japan needs to sell whale meat at a competitive price, similar to that of pork or chicken, and to do that it needs to increase its annual catch."
Many Japanese are reluctant to express an opinion on whaling, at least in public; two recent anti-whaling demonstrations in Tokyo were low key and received next to no coverage in the domestic media.
"Generally speaking, people don't know much about the issue because they're not presented with the facts," Komatsu, a critic of the misuse of tsunami funds, said. "The government spent disaster funds on whaling, but I would say that most people don't know how much money was used."
Whaling alone may not be the cause of Japan's obstinacy; some worry that if the country stops catching whales, other species — namely endangered bluefin tuna — will follow.
"For obvious historical and geographical reasons, unfettered access to marine resources matters a great deal to Japanese policy makers" Ramage said. Politicians can appear loyal by saying that any notion of ending whaling would also be a threat to Japan's history as a great maritime nation.