Santos pays special tribute to Chavez for his efforts to help bring peace to Colombia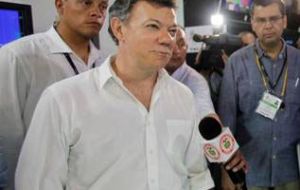 Colombian President Juan Manuel Santos regretted the loss of Hugo Chavez and attributed the advances in the peace process of his government with the FARC Marxist guerrillas (Colombian Revolutionary Armed Forces) to the deceased Venezuelan leader.
"In merit to his dedication and unlimited commitment, we have been able to advance in a solid peace process" said the Colombian leader in a national address on television, emphasizing that the best homage to Chavez is "to accomplish the dream he shared with us: an agreement to end decades of armed conflict and see a Colombia living in peace".
"Chavez used to say that this was what the great Liberator Simon Bolivar wanted to see and he was right" said the Colombian president emphasizing that Chavez' death is a "great loss for Venezuela, for the region, for Colombia and for me particularly".
In gratitude for Chavez peace offices in the first contacts that facilitated dialogue between his government and the FARC guerrillas, Santos pledged full support for Venezuelan in this new chapter.
"You can be sure that you have our full support so that Venezuela can have a democratic transition in peace and calm. We will walk along with you, as you have accompanied us in the peace process", promised Santos.
However Santos also recalled that relations with Chavez were not always smooth and "we had our differences" in economy and government running, but "we decided to leave them aside and look for what was the best for Venezuela and Colombia".
He recalled that when he took office in 2010 his first priority was to overcome the political, diplomatic and trade crisis he inherited from his predecessor Alavaro Uribe, sworn enemies with the now deceased Venezuelan leader.
"We agreed on reconstruction of relations between our neighbouring countries, but the obsession that we shared, and was the foundation of our relations, was peace in Colombia and the region", revealed Santos.
Chavez died Tuesday afternoon in the military hospital of Caracas three months after his fourth cancer operation which was first diagnosed back in June 2011.