Cash-short Petrobras shares surge following raise in diesel prices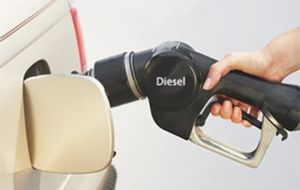 Brazil's Petrobras shares surged in Wednesday trading after the company surprised investors with a 5% increase in domestic diesel wholesale prices. The latest increase helps offset investor disappointment with January's lower-than-expected jump in gasoline and diesel prices, which had pushed Petrobras's shares to a seven-year low in recent sessions.
Petrobras's shares had been dragged down by expectations for stable crude oil production this year and ongoing concerns about the impact of heavy fuel imports on the company's bottom line.
Robust domestic demand and a shortfall in refining capacity have forced Petrobras to ramp up imports of gasoline and diesel fuel over the past two years, resulting in steep losses in the company's refining operations. That's because Petrobras imports fuels at higher prices than what the company sells them for in the domestic market. Separate rounds of price increases implemented in January and in 2012 had closed the gap, but local fuel prices still remain lower than in international markets.
Brazil's government, which is also Petrobras's largest shareholder, is reluctant to grant the company price increases because of fears they will stoke inflation.
The increases in diesel prices made in January and Tuesday should add about 3.6 billion to Petrobras's bottom line in 2013, Credit Suisse said, calling the cash infusion "significant." The cash should help ease financing pressure at Petrobras, which is in the midst of a 237 billion dollars investment plan through 2016 that will include about 50bn in spending this year alone.