Falklands' referendum observation mission has representatives from seven countries
Friday, March 8th 2013 - 08:41 UTC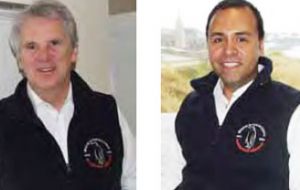 An impartial group of independent international observers, Referendum International Observation Mission (RIOM) will monitor the referendum on the political future of the Falkland Islands on Sunday and Monday, according to a release.
The team is free from external pressure and will determine whether the vote is free and fair and representative of the Islanders' will.
The RIOM mission is led by Head of Mission Brad Smith and Deputy Head of Mission, Juan Manuel Henao and will include a number of elected officials, civil society leaders, technical experts and eminent persons from the Americas and South Pacific.
A press release from the group said: "International observation standards will be observed, as well as applicable Falkland Islands election laws and regulations. A final Referendum Report is expected two weeks after the vote.
Observers hail from Canada, Mexico, Uruguay, Paraguay, Chile, the USA and New Zealand. (PN).-