Falklands' referendum: the view from the Islands, "as many as 98% of voters will say Yes"
Saturday, March 9th 2013 - 05:03 UTC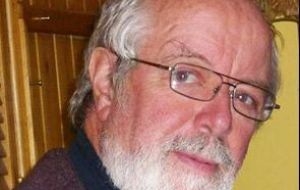 "We hope, by voting overwhelmingly in favour of remaining British, the rest of the world will understand and support our right to self-determination". The message is clear in Mar del Plata, Buenos Aires, in all of Argentina that is calling for sovereignty negotiations with the United Kingdom.
But Britain has refused because it says decisions on sovereignty can only be made by the Islanders. So, the Falklands government decided to hold a referendum, asking the electorate: "Do you wish the Falkland Islands to retain their current political status as an Overseas Territory of the United Kingdom?"
Voting will take place on Sunday and Monday with Islanders heading to polling stations in the capital, Stanley, and Goose Green. Mobile polling booths will also be driven across the mostly vast and empty territory, which consists of a total of 778 islands.
John Fowler, a former school superintendent from York who settled in the Falklands in 1971, predicts that as many 98% of voters will say 'Yes' to keeping British sovereignty.
"I think the turnout is likely to be pretty big too. The vast majority of people want to stay as we are. We are fed up to the back teeth of Argentina's politicians spouting outrageous nonsense and treating these Islands like a possession while ignoring its people.
"But this referendum is unlikely to change that. It might help change opinions in the rest of the world, though."
"We have had journalists arrive here from Russia, China and across Latin America to report on it," John reveals. "I hope it will send a message that we, the people of these islands, have the same right as any other people to determine our sovereignty".
Argentines, however, have long scoffed at this notion, pointing out that the Islands' 2,841 people are outnumbered by its million-strong penguin population.
Argentina says Spain, its former colonial ruler, discovered the Islands and never relinquished its claim and hence should be under Argentine control. But the UK disputes this and says it founded a territory there first, although concedes Spaniards lived there prior to 1833, when the British began their current settlement.
It had been seen as a harmless diplomatic scrap until two-month occupation by Argentina - orchestrated by the country's former military rulers – in 1982.
"It started with tracer bullets flying across my front garden and ended with an even scarier, prolonged effort by British forces to liberate the Falklands".
The deaths of Mary Goodwin, Sue Whitley and Doreen Bonner – who all perished after a shell hit John's house – were the only civilian fatalities of the war.
Since the war, the threat of a new attack – and the need for defence from Britain – has weighed heavily on the Islanders' minds.
The discovery of oil in its waters is both a bounty and a liability for the territory, which has already become one of the richest places on earth, because it renews Argentine interest.
"We live good lives here and are independent in everything apart from defence," says John, who admits one of the draws of island life is that he can permanently leave his keys in his car's ignition. "I'd probably lose them if I couldn't do that," he explains.
It had been suggested that a significant No vote might pave the way to another referendum on outright independence from Britain. But John dismisses this.
"It may be that in the future, the people want independence – and some already do. But they know they will only get the option to vote for this under British sovereignty. So, for now, I think support for the status quo is likely to be overwhelming." (Yahoo).-