Maduro takes the oath as acting president and candidate for the coming elections
Saturday, March 9th 2013 - 05:57 UTC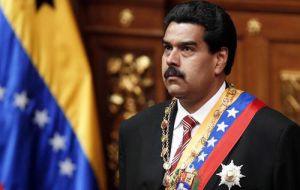 Vice-President Nicolas Maduro was sworn in Friday as acting president of Venezuela in a ceremony held in the National Assembly in Caracas, three days after the death of President Hugo Chavez. He immediately asked the Electoral branch to decide on an election date.
In a rambling speech that evoked the bombastic oratory of Chavez, Maduro said he would work to keep alive the memory and legacy of his predecessor.
"We still have him in our hearts" said Maduro, who was wearing a sash bearing the colors of the Venezuelan flag across his chest. "I have him here, here, as if he was the name in my soul, because I am his son; this sash belongs to him."
Maduro said that "We are here to guarantee peace, safety and political stability and the lifting up of the poor in Venezuela will continue: onward and upward with socialism!"
Maduro appealed to the opposition to field a presidential candidate for elections that are to be held in 30 days. "Some of them are here today," he said. "Welcome." But he noted that few opposition members were in attendance. "They didn't want to come," he said.
And regarding the elections "May the best person win. The people will decide."
He then targeted the United States, with whom Chavez had had prickly relations. "Our eyes will see sooner rather than later the decline of the imperialist elites that changed the United States into an empire of aggression," he said. "That moment will be a fabulous moment for humanity."
Maduro announced that he had appointed the minister of science and technology, Jorge Arreaza, to replace him as vice president. Arreaza is son in law of Chavez since he is married to one of his daughters.
Shortly before the ceremony, opposition leader and Miranda State Governor Henrique Capriles told reporters in Caracas that the ceremony was "an abuse of power."
"Nicolas, to be president, the people have to elect you," he said. "The constitution is very clear."
Capriles said Maduro would have to first register as a candidate and then campaign. "That's what the constitution says," he said. "It's all here."
Then, addressing Maduro as if he were there, he said, "Nicolas, they didn't elect you. The people didn't vote for you, boy."
He continued, "We are not going to permit that the sorrow that the people feel be an excuse for the abuse of power, for constitutional fraud".