"Vision of the Seas" cruising the Caribbean hit by norovirus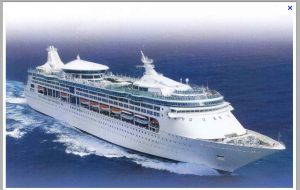 Royal Caribbean Cruises Ltd. on Friday said its "Vision of the Seas" cruise ship returned to Port Everglades in Florida with 108 people who might have caught an illness thought to be norovirus.
In a statement released on Friday, Royal Caribbean said the cruise ship experienced an elevated number of people with a gastrointestinal illness on its most recent sailing. Over the course of the sailing, 105 guests and three crew members experienced the illness.
The cruise operator said those affected by the illness responded well to over-the-counter medication administered onboard the ship. The vessel had 1.991 passengers and 772 crew members on board.
When the ship arrived at Port Everglades on Friday, the company conducted an "extensive and thorough" sanitizing onboard the ship and within the cruise terminal, according to a statement.
The norovirus is a highly contagious illness that can be passed through person-to-person contact or through contaminated food, water and surfaces. The illness can cause severe diarrhea, vomiting and abdominal pains.
Each year the virus causes about 21 million illnesses and contributes to about 70,000 hospitalizations and 800 deaths, according to the Centers for Disease Control and Prevention. Norovirus is the most common cause of food-borne-disease outbreaks in the United States, according to the CDC website.
The best way to prevent the illness is to practice proper hand washing and general cleanliness.
The 915-foot-long Vision of the Seas was ending a Caribbean cruise that left Port Everglades on February 25. Its previous port of call was Aruba on March 5. She was scheduled to leave on another 11-day cruise this weekend.