Uruguay defence minister blasts Uruguayan observers at Falklands referendum
Monday, March 11th 2013 - 05:06 UTC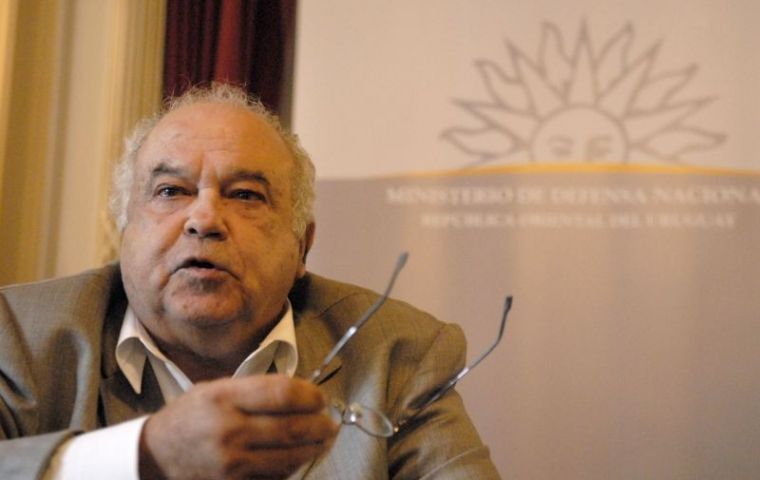 Uruguay Minister of Defence Eleuterio Fernandez Huidobro described as an "enormous shame" for the country the fact that two lawmakers from the leading opposition National party travelled to the Falklands/Malvinas to participate as observers of the Sunday/Monday referendum on the Islands political status and future.
"They are going to validate with their presence the absurdity of a referendum by the occupants of the Islands. We are accustomed to their shameful attitudes. They have always been sepoys of the Latinamerican cause and today they are again confirming it", blasted Fernandez Huidobro in direct reference to lawmakers Jaime Trobo and Jose Carlos Cardoso.
Uruguayan Deputy Foreign minister Roberto Conde said the referéndum was "vitiated of nullity" and the chair of the International Affairs committee from the Lower House, Jose Carlos Mahía described it as "a deep error and almost intromission in the affairs of a brotherly country by attending a referendum promoted by the occupying country".
He anticipated that the ruling Broad Front coalition will not take into account the results of the referéndum because the Malvinas "have been and will always be Argentine and that kind of voting is organized knowing before hand the result".
Senator Jorge Larrañaga and leader of the National party said that his grouping does not approve the Malvinas referendum and pointed out that he declined an invitation from the British embassy to attend the event.
However Larrañaga said he respects the decision of the two members of his party "in so far that their attitude does not validate the referendum. I will make no comments regarding the trip, but I will emphasize that the National party made no official statement in support of the Malvinas referendum"
Finally Larrañaga openly rejected "the rude and disqualifying statements from Minister Fernadez Huidobro which have the intention of making people believe the National party supports the referendum which is not the case".
Fernandez Huidobro is one of the closest aides of President Jose Mujica from the time they were members of the urban guerrilla.
The Uruguayan defence minister also attended in Mar del Plata the political rally recently organized by President Cristina Fernandez to receive the flagship of the Argentine Navy, the frigate Libertad that was impounded for several months in Ghana before she was ordered released by the UN Law of the Sea Court in Hamburg.