Cardinals' conclave to elect new pope begins; a first non-European in the cards
Tuesday, March 12th 2013 - 07:40 UTC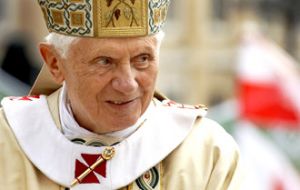 Roman Catholic Church cardinals will file into the 15th-century Sistine Chapel on Tuesday to begin their secret election of a successor to retired Pope Benedict XVI. Cardinals under the voting-age limit of 80, totaling 115 are scheduled to begin their conclave at 4:30 p.m. in Rome after asking for God's guidance at a mass in St. Peter's Basilica.
Hailing from six continents, the red-hated "princes of the church" will choose a new leader of the world's 1.2 billion Catholics amid a waning church presence in Europe and North America and expansion in Asia, Africa and Latinamerica. The elections of John Paul II in 1978 and his successor Benedict in 2005 took three days and two days, respectively.
The German-born Benedict, 85, who on Feb. 11 said he no longer had the strength to lead the church, was the first pope to resign since Gregory XII in 1415. The process of electing his successor will offer few signs about the winner until white smoke wafts over St. Peter's Square.
"We won't be sending any text messages" to announce the new pope's election, Vatican spokesman Federico Lombardi said at a press briefing on March 9. "A little bit of suspense is one of the nice things about this event."
On entering the conclave, cardinals and supporting staff must take a vow of secrecy. Under rules updated by Benedict, violating the vow brings automatic excommunication. During the conclave cardinals must remain in the Sistine Chapel, adorned with Michelangelo's frescoes, or their lodgings in the Vatican.
Only one ballot is held on the first day of the conclave, after which as many as four votes a day can be conducted.
When no candidate wins the required two-thirds of the votes, ballots are burned with a chemical to emit black smoke over St. Peter's Square. White smoke signals a new pope, who is later accompanied to a balcony over St. Peter's Square with the proclamation "Habemus Papam," Latin for "We have a pope."
Cardinal Joseph Ratzinger, who became Pope Benedict XVI, was elected after two days and four ballots on April 19, 2005, 17 days after John Paul's death. Conclave press passes that expire March 23 suggest the Vatican expects his successor will be installed by the March 24th start of Holy Week on Palm Sunday that runs through Easter.
Of the 115 cardinal electors, sixty-seven were created by Benedict and 48 by John Paul II. They spent the last week with cardinals above the voting age discussing challenges facing the church and sizing up papal candidates, including possibly electing the first non-European pope in more than a millennium.
Some of the debates focused on how to improve the work of the Vatican bureaucracy known as the Curia in light of the so- called "Vatileaks" case involving leaked papal documents, which depicted a web of Vatican intrigue undermining Benedict's governance of the global church.
The cardinals also pondered how to reconnect with a Western culture that now largely rejects Catholic teachings on contraception and homosexuality, fails to understand why women can't be priests and lacks interest in topics of a more theological nature.
"The church is bleeding in the West," said Jack Valero, a founder of U.K.-based Catholic Voices, an international group that trains lay people to speak publicly about church issues. Valero predicts the new pope will be one of the cardinals working on the Vatican's "New Evangelization" council, which Benedict created in 2010 to develop ways to better communicate the faith to contemporary culture.
Members of the council include Angelo Scola, the 71- year-old archbishop of Milan; Vienna Archbishop Christoph Schonborn, 68; New York Archbishop Timothy Dolan, 63; Canada's Ouellet, the 68-year-old archbishop of Montreal; and Sao Paulo Archbishop Odilo Scherer of Brazil, 63.
Other non-European "papabili" include Argentina's Cardinal Leonardo Sandri, 69; Francis Arinze of Nigeria, 80; and Peter Turkson of Ghana, 64, dubbed "one of Africa's most energetic church leaders" by The Tablet, a British Catholic magazine.
Naming a South American or African would break from a tradition of European popes dating to the death of Syrian Gregory III in 741. Africa, where baptized Catholics more than tripled between 1980 and 2010 to 185.6 million, is the church's fastest-growing region.