Falklands: US formal position unchanged but describes the referendum as 'democratic'
Wednesday, March 13th 2013 - 03:40 UTC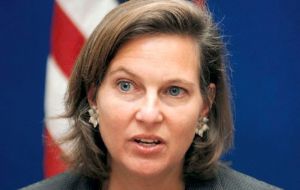 The US State Department spokesperson said on Tuesday that Washington's formal position regarding the Falklands/Malvinas despite the democratic referendum results, "has not changed: we recognize de facto UK administration of the Islands, but we take no position on sovereignty claims".
"We take note of the results of the recent democratic referendum in the Islands, where the residents voted to retain the Islands' current political status as a British overseas territory. The residents have clearly expressed their preference for a continued relationship with the United Kingdom. That said, we obviously recognize that there are competing claims and our formal position has not changed. We recognize the de facto U.K. Administration of the islands, but we take no position on sovereignty claims", said spokesperson Victoria Nuland.
The questions on the Falklands' referendum were the first asked in the daily briefing of the State Department (before North Korea and Syria) but despite repeatedly pressed on the issue of self-determination, and the fact Britain is arguably is the US closest ally, Nuland would not yield from the phrase that the US acknowledges competing claims over the Islands sovereignty.
"Let me say it one more time, we've been very clear about what we see in this referendum and the will that's been expressed by the people of the Islands, but that doesn't change the fact that there are competing claims. Our own legal position has not changed", insisted Ms Nuland.
So are you going to now take a look at your position and perhaps review it going further down the line?
But Ms Nuland insisted with the script: "we don't take any position on sovereignty claims. We do think it's important for the parties to continue to have – to be constructive in their approach and focus their own efforts on a resolution".
A further question pointing out that the referendum was held to demonstrate the world that the people that live in the Falklands want to remain British and to validate that position before international bodies and other governments, and if the US is not going to change its longstanding neutrality on this position, "by definition the referendum has failed to convince the US?"
"Well, as I said, we have been very straight up here about acknowledging what happened in this referendum, which is that the residents have expressed their preference. But with regard to our legal position, it is as I stated". Can we change topics?