Falklands' dispute: 'the Vatican is no arbitrage tribunal for international affairs'
Monday, March 18th 2013 - 18:49 UTC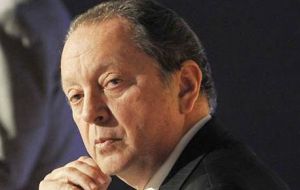 The Pope has no reason to intervene in the Falklands/Malvinas dispute, since the Vatican is not an international tribunal and there is no imminence of a war, according to Rodolfo Terragno an Argentine lawyer and former head of cabinet, minister and congressman.
"The Vatican is not an arbitrage tribunal to resolve international affairs; the Pope's intervention at the time was because there was a serious possibility of war between Argentina and Chile. It was a pacifying mission, the search for a solution that avoided appealing to arms. At this moment there is no chance in the horizon of a war over the Malvinas Islands, it's simply a disputet; I see no reason for the Vatican to intervene", argued Terragno .
The former cabinet chief of ex President Fernando De la Rúa made the statements in a long Sunday interview with an Argentine newspaper, El Tribuno, in a clear anticipation of what happened today when President Cristina Fernandez asked Pope Francis for his "holy intervention" in the Malvinas dispute.
"I think the Pope has more serious domestic problems in his hands such as paedophilia, abortion, anti-conception, same sex marriages. We are not talking about Argentine politics, we're talking about Francis and the things which the Church must change and his predecessor Benedict XVI, the first to resign in centuries, insinuated in rather soft criticism", said Terragno.
On the other hand the fact that the Pope is an Argentine is going to promote "a greater Catholic feeling in the country".
Terragno went on to say that Argentina is so politicized and sick about politics that people believe the naming of Bergoglio as Francis will have an impact on Argentine politics and are speculating what it will be.
"The previous clashes between Bergoglio and President Cristina Fernandez will not influence the relation between Argentina and the Vatican. That was Bergoglio, not Francis. Here in Argentina we are sick into politics but what we are facing is an unexpected extraordinary event, a Latinamerican pope who also happens to be Argentine", points out Terragno who was exiled several years in the UK during the last military dictatorship and worked at the London School of Economics.
Terragno also talked about the attacks from the ultra-Kirchnerite groups trying to degrade the figure of Bergoblio for his alleged role during the dictatorship days. The attacks have been targeted by journalist-writer Horacio Verbitsky in his book 'El Silencio' (The Silence), the pro-Iran picket leader brown-shirt Luis D'Elía who has a direct line with the Argentine presidency and Hebe de Bonafini, president of the Mothers of Plaza de Mayo, great admirer of Fidel Castro, Hugo Chavez and Gaddafi.
"I insist there is no real political capacity to analyze events such as the election of the first Latinamerican pope. All problems in Argentina are seen as political problems. And this government (President Cristina Fernandez) is the result of such a highly politicized and radicalized society", concluded Terragno.