Poll shows for 52% of Britons involvement in Iraq war damaged UK reputation
Monday, March 18th 2013 - 06:58 UTC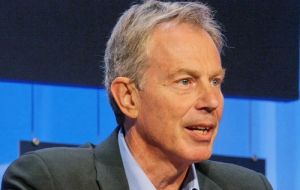 More than half of Britons have said the UK's involvement in the Iraq war damaged the country's reputation around the world, a new poll has found. On the 10th anniversary of the invasion, the survey by King's College London (KCL) and Ipsos Mori showed that some 52% said the war had damaged UK's standing.
The poll found that four in 10 Britons thought it had made the world a more dangerous place. According to the Independent, the public's view of whether the war in Iraq was justified has shifted over the years.
Polling trends show support peaked at over 60% in favor in April 2003 after the fall of Baghdad, but by 2007, the tide had changed and 83% opposed the war, driven by the feeling that the public had been deceived, particularly by the then Prime Minister, Tony Blair.
However, in an article for The Independent on Sunday, the Liberal Democrat leader, Nick Clegg, insisted that the Iraq experience should not prevent the UK intervening in conflicts around the world, including the Syrian civil war.
The extent of public hostility to the invasion of Iraq comes as a series of official reports have raised questions over the country's progress in key areas of development, including health, education and human rights.
Last week, a UN assessment of Iraqi performance against key 'millennium development goals' (MDGs) found 'a mixed picture', saying Iraq had made major achievements in reducing extreme poverty and increasing gender equality.
According to the report, Iraq expert Fanar Haddad, who will speak at a London conference on the 10th anniversary this week, said the country had "exchanged one catastrophe for another" in 2003.