Tehran insists accord with Argentina includes Interpol lifting red notices against Iranian suspects
Tuesday, March 19th 2013 - 06:38 UTC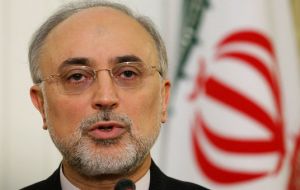 Iranian Foreign Affairs minister Ali Akbar Salehi criticized Interpol for having stated that the existing red notices (international arrest warrants) on six Iranians suspected of involvement in the terrorist attack on a Buenos Aires Jewish organization remain active.
Ali Akbar Salehi argued that according to the memorandum or understanding signed by Iran and Argentina to help with the investigation of the deadly 1994 bombing of the Amia Jewish community centre, Interpol must eliminate the charges against the Iranian authorities", among which figures the current Minister of Defence Ahmad Vahidi.
The statement from the top Teheran official to IRNA, the Iranian government news agency, clashes with the position from the Argentine government that last Friday celebrated the fact that the red notices had not been lifted, and that the international police organization described the Argentina/Iran understanding as 'positive' for the investigation of the attack that killed 85 and left hundreds injured.
Saheli assured that Iran was not responsible and had condemned the terrorist attack against the AMIA Jewish centre in downtown Buenos Aires on 18 July 1994 and is "working jointly with the Argentine government to resolve the question, based on the memorandum signed by representatives from the two governments".
The minister ratified that the only premise behind the agreement with Argentina is to jointly investigate the 1994 AMIA terrorist attack by establishing a Truth Commission was to resolve the crime.
"The (content) of the accord between Iran and Argentina regarding the AMIA issue will be released publicly at the right moment and the issue (of Iranian suspects) is included and we are following it up".
Asked about the interrogation of the high-ranking Iranian officials accused, Salehi said: "one of the issues over which we have reached an agreement with the Argentine government in the memorandum (of understanding) is that," adding that attempts by "malicious people who want to isolate Iran" will fail.
The memorandum of understanding was signed last 27 January in Ethiopia by Salehi and his Argentine peer Hector Timerman and creates a Truth Commission to resolve the crime.