The Pope is Argentine, but God is Brazilian, says Rousseff; Francis is expected in Rio next July
Wednesday, March 20th 2013 - 23:09 UTC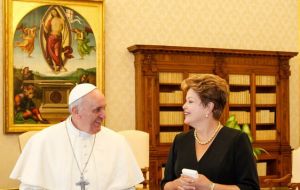 Argentines are lucky because they have a great Pope, but "if the Pope is Argentine, God is Brazilian", said Brazilian president Dilma Rousseff on Wednesday following her half hour meeting with Francis and asked by Argentine reporters her impression of the new pontiff.
"I consider you (Argentines) have a lot of luck, you have a great pope. Argentina deserves to be congratulated, but back home we always say that if the Pope is Argentine, God is Brazilian" Rousseff told reporters covering the historic event and in direct reference to the neighbourly rivalry.
This was the second meeting Pope Francis holds with a head of state, (the first was with Argentina's Cristina Fernandez) and President Rousseff described the 30-minute exchange as magnificent and stated that the pontiff is "excited" about the possibility of visiting Brazil in the coming weeks.
Prior to the official meeting at the private library of the Vatican's Apostolic Palace, Rousseff told reporters in the Vatican that the Pope's eventual visit to Rio de Janeiro on June 23-28 marking the 2013 World Youth Day will be the "greatest event" Francis would attend to.
"A multitude of Catholics is expected. "We will receive him in the best way, as usual," the leader of Brazil -home of 123 million Catholics- affirmed.
President Rousseff added that Francis was also looking forward to visit the shrine of Our Lady of Aparecida in Sao Paulo. The image is widely venerated by Brazilian Roman Catholics, who consider her as the principal patroness of Brazil.
Pious accounts claim that the statue was originally found by fishermen, who miraculously caught many fishes after invoking the Blessed Virgin Mary. The dark statue is currently housed in the Basilica of the national Shrine of Our Lady of Aparecida. The cult is not to the image, but for the first apparition of the Immaculate Conception in Brazil, for the first time ever in a black skin color. The image is considered a symbol of this event, and the apparition as a blessing to Brazil.
The Brazilian president described the new pontiff as a "very charismatic personality" and underlined his great commitment to the poor.
"This is a Pope that speaks to the weakest, to the youth, to the elderly and to those who need help. I think he is a pontiff who has the capacity to be moved, that will dedicate (himself) to the poor and he has said that that is his main goal. It is a reason for us Brazilians and for all Latin America to be proud of, but above all it is good for the whole world," the president stated.
She also revealed that Francis has good command of 'portuñol' the mix of Spanish and Portuguese spoken along the borders of Spanish South America and Brazil, and thus "we did not need a translator".