Venezuelan presidential candidate Capriles pledges "not another drop of oil to Cuba"
Wednesday, March 20th 2013 - 07:46 UTC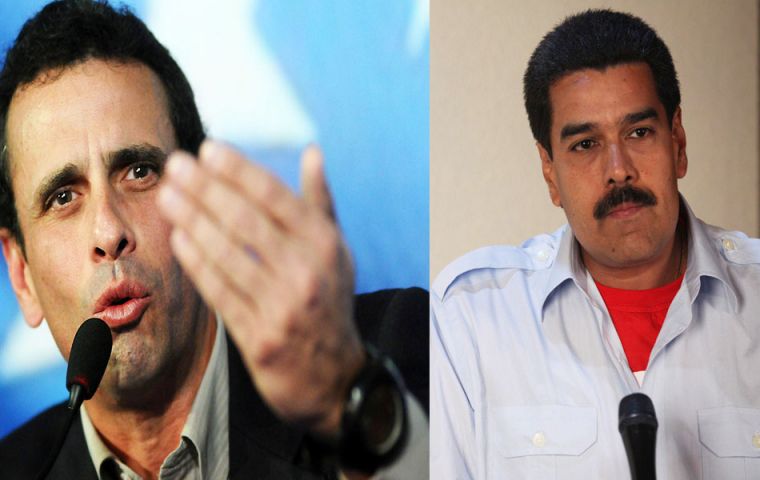 Venezuelan opposition presidential candidate on Monday vowed to end the OPEC nation's shipments of subsidized oil to the Castro brothers regime in Cuba, slamming acting President as a puppet of Havana.
Capriles has berated Nicolas Maduro as a weak imitation of the late Hugo Chavez, whose death two weeks ago convulsed the country and triggered the April 14 vote. The opposition also accuses the government of failing to fight crime and control inflation.
"The giveaways to other countries are going to end. Not another drop of oil will go toward financing the government of the Castros," Capriles said, referring to Cuba's present and past leaders, Raul and Fidel Castro.
"Nicolas is the candidate of Raul Castro; I'm the candidate of the Venezuelan people," Capriles said during a speech to university students in the oil-rich state of Zulia.
The election marks the first test of the "Chavismo" movement's ability to maintain the late leader's populism after his death, and it will be crucial for regional allies that depend on Caracas for financing and cheap fuel.
A victory for Capriles, 40, would likely give global oil companies greater access to the world's largest crude reserves and offer investors more market-friendly policies after years of state-centered economics.
Maduro, a 50-year-old former bus driver seen as having the advantage in the vote, has vowed to continue Chavez's economic model that included frequent nationalizations and heavy regulation of private enterprise alongside generous social welfare programs that underpinned his popularity.
The youthful Capriles, who lost to Chavez by 11 percentage points in 2012, faces a delicate balancing act to highlight the flaws of Chavez's governance without appearing to be attacking the former president or seeking to tarnish his legacy
He has exchanged furious barbs with Maduro since launching his candidacy and renewed his criticisms from last year's campaign over day-to-day problems such as unchecked crime, food shortages and high cost of living.
"Every day it's harder to find food, and every day food is more expensive," Capriles said. "This model is not viable."
He said halting cheap oil sales to Cuba would free up resources to boost public employee salaries by 40% to make up for inflation that is one of the region's highest.
Ties to Cuba are likely to remain a central part of the campaign. Capriles for months accused authorities of compromising the country's sovereignty by letting Chavez govern for two months from a Havana hospital.
Venezuela provides close to 100,000 barrels per day of oil to Cuba in exchange for a host of services including doctors that staffs free health clinics in slums and rural areas. Supporters say it has helped expand access to health care, while critics call it a mere subsidy to the Castro government.
Maduro's frequent visits to the island during Chavez's two-month convalescence there led opposition leaders to joke that he had picked up a Cuban accent.
The respected local pollster Datanalisis gave Maduro 46.4% versus 34.3% for Capriles in a survey carried out before Chavez's death.
He enraged Maduro by accusing him of repeatedly lying about the late president's two-year battle with cancer, and of then cynically using his death as a campaign tool. He later apologized to Chavez's family if his words had offended them.