Capriles says that with the devaluations Maduro is destroying the 14 years of Chavez achievement
Thursday, March 21st 2013 - 06:36 UTC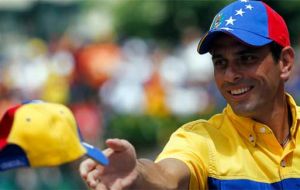 Venezuelan opposition candidate Henrique Capriles claimed that acting president Nicolas Maduro with his latest decision approving a new devaluation of the local currency Bolivar is destroying the country, and he is achieving it in the hundred days he has been running the government.
"What the government of Maduro decided was another devaluation; another blow in the heart of Venezuelans", said Capriles at a political rally a day after the government decided a new system, by auction, to distribute scarce dollars among the country's importers.
"Once again the government which systematically lies every day to the people has implemented a new devaluation of the currency which means prices are going to be even dearer, and what you can't get now is going to be even more difficult to get hold of", said Capriles.
The running of the Venezuelan government since last 8 December when Hugo Chavez left for Cuba and died on 5 March has been in the hands of Maduro, his trusted and chosen successor who in February approved a 32% devaluation of the Bolivar against the US dollar.
"Nicolas in a hundred days you are destroying what in the 14 years the President of the Republic achieved. Can you imagine another six years of this? They are not managing Venezuela, they are destroying Venezuela", emphasized the governor of Miranda the second most populated of the country.
Capriles insists that the measures do not hurt the government but the people and called on all Venezuelans to understand that the April 14 election 'is not a match, it's the country which is at stake, the lives of our families and our children".
But nevertheless there is a great chance not to elect a new president but to change the course of the country. "The big battle is with the corrupt, the small group of 'wise guys' who are looting the country".
The hard currency management system announced on Tuesday by the Venezuelan government is an additional mechanism for importing firms to have access to dollars through auctions, but which must first be checked and later confirmed and paid to suppliers through the central bank.
Maduro and Capriles are the leading candidates for the 14 April election which will enable the winner to complete the six year mandate to 2019, which was frustrated by the death of Hugo Chavez last March 5.