All EU eyes on Cypriot banks which open Thursday with tough deposit controls
Thursday, March 28th 2013 - 09:30 UTC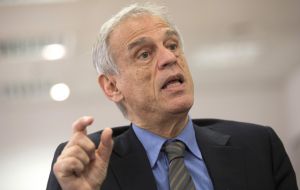 Cyprus trucked out cash for its banks on Wednesday night to prepare them to reopen to a siege by anxious depositors, with tough controls imposed on the use of currency to avert a bank run as a result of its harsh rescue deal.
In a move reminiscent of events in Latinamerica (Argentina, Brazil, Uruguay, Bolivia) the Central Bank said banks would open their doors at midday (1000 GMT) on Thursday after nearly two weeks when Cypriots could get cash only through limited ATM withdrawals, while the government hashed out the rescue to stave off financial ruin.
Among measures imposed to prevent savers from stripping the bank vaults clean when the doors open: withdrawals will be capped at 300 Euros per day, travellers may take no more than 3,000 Euros abroad per trip, and funds can be sent abroad only by businesses that can prove they are paying for imports.
The European Central Bank delivered extra banknotes to Cypriot banks on Wednesday evening to meet demand, a source familiar with the situation said.
At least three container trucks loaded with cash pulled up inside the compound of the central bank in Nicosia in early evening, a Cyprus central bank source said. A helicopter hovered overhead and police with rifles were stationed around the compound.
The controls, announced in a finance ministry decree, would allow unlimited use of credit cards within Cyprus, but set a monthly limit of 5,000 Euros for Cypriots using credit cards abroad. Payment by cheques would be banned.
The central bank would review all commercial transactions between 5,000 and 200,000 Euros, and scrutinise any larger transactions on a case-by-case basis.
A central bank official said the measures would initially be imposed for four days, and would be reviewed and relaxed as soon as possible.
"The rationale is that these measures will be reviewed on a daily basis, so if there is the possibility of relaxing them we will," Yiangos Demetriou, head of internal audit at the Central Bank, said on state television.
Cyprus's financial difficulties have sent tremors through the already fragile single European currency. The imposition of capital controls has led economists to suggest that a second-class "Cyprus Euro" could emerge, with currency trapped on the island worth less than money that can be freely used abroad.
Cyprus has a huge financial sector with 68 billion Euros in deposits, operating as an offshore haven for rich Russians and other foreigners. Cypriot banks had billions in Greek sovereign bonds and suffered great losses when Athens forced creditors to accept over 50% cuts in their holdings.
The island's bailout is the first time that EU officials have demanded bank depositors take losses as the price of a rescue, causing outrage on the streets and fear that savers will flee with their cash.
Finance Minister Michael Sarris has said capital controls will be "within the realms of reason". But Cypriots, fearing for their savings and angered by the bailout deal struck on Monday in Brussels, are expected to besiege banks.
Under the bailout, Cyprus's second largest bank will be closed and its guaranteed deposits of up to 100,000 Euros transferred to the biggest bank. Deposits of more than 100,000 Euros at both banks would be frozen.
Big depositors will lose money, but the authorities say deposits up to 100,000 Euros will be protected, a reversal from an earlier plan that would have hit small depositors as well.
European leaders said the bailout deal averted a chaotic national bankruptcy that might have forced Cyprus out of the Euro.
Critics said the capital controls, which contradict the EU principle of free flow of money and goods, might be hard to give up.