Frustration with Hollande at its peak; Thursday he will address the French people
Thursday, March 28th 2013 - 09:26 UTC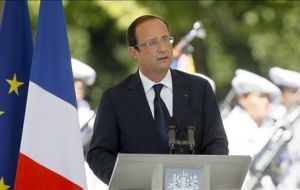 French President Francois Hollande's popularity rating has fallen to its lowest level since he came to power, according to a poll released a day before he is due to address the nation to ask for patience as he attempts to revive the economy.
Ten months into his tenure, the Socialist president is struggling to reverse rising jobless claims, which are at their highest level in 15 years, and to stimulate an economy teetering near recession.
Only 27% of those polled in the LH2 poll for left-leaning weekly Le Nouvel Observateur expressed satisfaction with Hollande, with 68% dissatisfied.
Hollande was elected last May on pledges to get people back to work. His inability to meet that goal and a steady stream of weak economic data has eroded his popularity, which fell to about 30% late last month, according to various polls.
In the LH2 survey, just 15% of respondents said they were satisfied with his efforts to fight unemployment, with 81% dissatisfied. His efforts to reduce the public debt fared only slightly better, garnering a 22% satisfaction rate.
"This assessment ... shows that his May 2012 designation as a 'candidate of change' now leaves people with a feeling they have been deceived, which is amplified for his measures to fight unemployment and reduce the public debt," said pollster LH2.
Only in Hollande's management of foreign relations did those polled express more satisfaction than dissatisfaction: 47% against 45%.
Hollande is due to give a prime-time television interview on Thursday aimed at reassuring a sceptical public over the economic outlook. The survey questioned 968 people by telephone on March 22 and 23.