Cyprus depositors over 100.000 Euros could lose 60% of their savings
Monday, April 1st 2013 - 09:46 UTC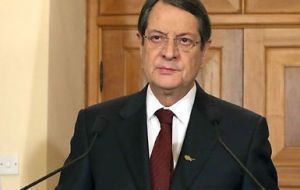 Bank of Cyprus depositors with more than 100.000 Euros could lose up to 60% of their savings as part of an EU-IMF bailout restructuring move, officials say. The central bank says 37.5% of holdings over 100.000 Euros will become shares.
Up to 22.5% will go into a fund attracting no interest and may be subject to further write-offs. The other 40% will attract interest, but this will not be paid unless the bank performs well.
Cypriot officials have also said that big depositors at Laiki - the country's second largest bank - could face an even tougher "haircut". However, no details have been released.
The officials say that Laiki will eventually be absorbed into the Bank of Cyprus.
The fear is that once the unprecedented capital controls, which are in place for an indefinite time are lifted, the wealthiest will rush to move their deposits abroad, according to the BBC.
The larger than expected loss could also have devastating consequences for large depositors such as schools and universities. And it could spread fear in other indebted Euro zone countries that Cyprus might set a precedent.
Cyprus needs to raise 5.8bn Euros to qualify for the bailout, and has become the first Euro zone member country to bring in capital controls to prevent a torrent of money leaving the island and credit institutions collapsing.
The original 10bn-Euro bailout deal was agreed in Brussels earlier this month. It placed a one-off tax on all customers of Cypriot banks, starting at 6.75% for the smallest deposits.
But this led to mass protests across Cyprus, and the deal was later voted down by the country's parliament. MPs later backed a revised deal.
Cypriot President Nicos Anastasiades has said the financial situation has been "contained" following the deal.
He has also stressed that Cyprus has no intention of leaving the euro, stressing that "in no way will we experiment with the future of our country".
On Thursday, banks in Cyprus opened for the first time in nearly two weeks. Queues formed of people trying to access their money, but the mood was generally calm.
By Friday, banks had returned to their normal working hours and there were no longer reports of big queues.
In a separate development, Cyprus launched an investigation after Greek media published the names of politicians who allegedly had loans forgiven by three Cypriot banks at the height of the crisis.
The Bank of Cyprus, Laiki and Hellenic Bank apparently wrote off loans of millions of Euros to companies, local authorities, and politicians from some of the island's biggest parties.