Brazil postpones until next year increases in car sales taxes to help the economy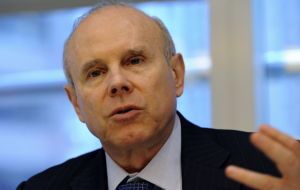 The Brazilian government postponed until next year increases in taxes on the sale of cars and trucks in a bid to stimulate demand for manufactured goods and spur economic growth, announced the Finance Ministry.
The IPI tax on manufactured products was reduced last year for vehicles as part of a barrage of tax breaks and other stimulus measures by President Dilma Rousseff's government to restore life to a flagging economy.
The tax on vehicles was reintroduced this year and the government planned to restore the levy to previous levels, but weak vehicle sales led it to put off the plan.
Finance Minister Guido Mantega said the government wanted to "avoid the risk of a drop in sales throughout the year."
"The car industry is very important for Brazil's economy, it accounts for 25% of industrial production," Mantega said on Globo TV. "So, to keep industrial output growing, it is important that the auto industry keeps growing."
Brazil's economy grew just 0.9% last year, a miserable performance following last decade's boom. Along with currency losses, it caused Brazil to fall back behind Britain to seventh place among the world's largest economies.
The economy perked up and grew somewhat faster in the last three months of 2012 when private investment rebounded, but manufacturing remained stuck in its years-long slump, falling 0.5% in the fourth quarter.
The Brazilian central bank expects the economy to expand by 3.1% this year, while Mantega still believes GDP growth could top 4%.
The ministry said the postponement of the IPI tax increases for vehicles through December will cost the government 2.2 billion Reais (1.09 billion dollars) in lost tax revenue.