Falklands' new port facility sea bed survey to be completed by early June
Tuesday, April 2nd 2013 - 18:27 UTC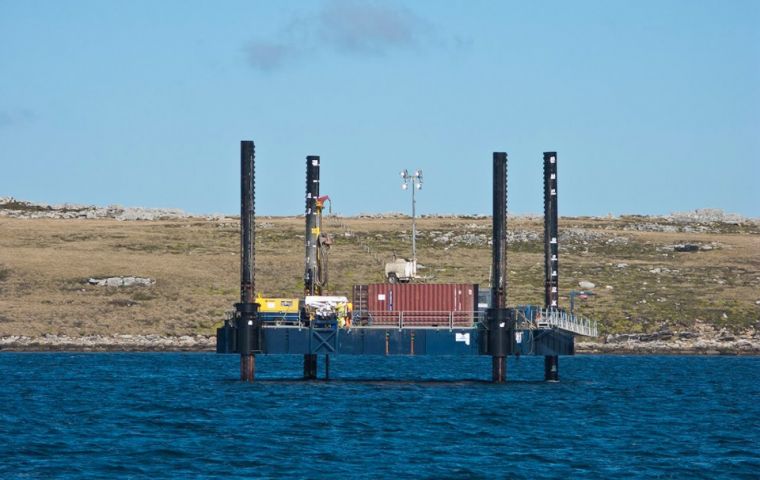 A deployable core drill rig is taking samples of the sea bed and rock structure for the likely locations of a future deep-sea port for the Falkland Islands in Port William, reports the Penguin News.
The work currently being commissioned by the Falkland Islands Government in Port William involves taking between 19 and 22 core samples in likely locations where the port facility could be built, covering a survey area approximately 750 metres by 1 km. Each sample takes between one and two days to obtain and is drilled to a depth of 17 metres or so.
As part of the design process port engineers require detailed information on the make-up of the sea bed and the rock structure below it. This is to assess the strength, formation, depth and type of load-bearing strata found in the location.
There are a number of surveys that inform the engineers of some of this information, such as hydrographic and geophysical surveys carried out by surface run vessels and the like, but there is really only one way of finding out what actually makes up the sea bed and what is below it, and that is to take core samples and look at it.
To do this requires "an over-water deployable core drill rig, made up of a jack-up barge and deck-mounted core drill machine" and this is the 'monster'
The works commenced on March 11 and despite a couple of days of bad weather to date, the operators, UK-based firm, Holequest, who are being overseen by FIG appointed engineers, Arch-Henderson, are on target to complete by the end of second week in April.
Paul Higham, FIG Programme Manager for oil-related infrastructure told Penguin News that he was very pleased with the progress made so far by the crew who are working twenty-four our shifts, seven days a week.
He reported that the quality of samples was good in most cases, and rock formations that are millions of years old were being exposed the further down the drilling reaches.
Samples of the rock will be sent back to the UK for analysis and ultimately result in a comprehensive report which engineers will use to inform them of the type of sub-sea structure required for the port.
Once the marine samples have been completed the intention is to dismount the core drill rig and use it on land for similar land-based core samples. This will be carried out on the Port William side of the Navy Point peninsula.
FIG envisages that all priority field-based surveys in relation to the port, and the proposed access road, will be completed in May or early June 2013 and says that they are currently on target to achieve this.