Real estate prices' increase in Rio and Sao Paulo among the highest in the world
Tuesday, April 2nd 2013 - 19:42 UTC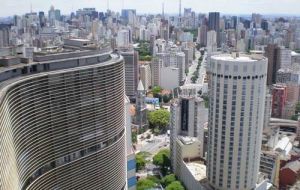 The latest Knight Frank's Global Real Estate Index released this month has Brazil ranking No. 3 in the world and No. 1 in the Americas for rising home prices. Only ridiculously expensive Hong Kong and Dubai, which are not countries, have seen prices rise more. So in fact, no single country has seen its housing prices increase as much as Brazil.
Brazil housing prices rose 13.7% from the fourth quarter of 2011 to Dec. 31, 2012. By comparison, US housing prices rose 7.3% in the same period, putting it at No. 12 in a list of 55 countries ranked by Knight Frank. The only other country in the hemisphere to make it into the top 20 was Colombia, with real estate prices rising 8.3% in 2012.
One reason Brazil stands out is the low cost of financing, or at least low by Brazilian standards. Mortgage rates are at least 1.3% a month and loan payments are generally for just 15 years. It used to be that Brazilians bought homes in cash, but not anymore. They are financing purchases with down payments. Since 2009 when Brazilians starting buying homes on debt, mortgage lending has risen five fold by 550% between then and 2012.
According to Brazil's Institute for Economic Research, or FIPE, housing prices rolled into the end of 2012 in seven capital cities on a high note. Prices in all seven cities — from São Paulo to Rio de Janeiro — rose well above the inflation rate of 5%. At the start of the fourth quarter last year, at the end of September, Brazilian housing prices had already risen by 15% while inflation was not even half that.
Looking back at September, FIPE said São Paulo real estate rose 1.5%, three times higher than the national inflation average for the month.
Average price per square foot in São Paulo was 6,806 Real or around 3.403 dollars. Rio was even worse and has become the most expensive city in Brazil when consider square foot pricing. In Rio, it's over 8,300 Real or around 4,000 dollars. In 2012 average price per square foot in New York City was 1.294 dollars.
But despite this spiraling of prices FIPE says there is no real estate bubble in Brazil.
By the popular US definition, Brazilian real estate is not in a bubble. Its banks do not trade in risky mortgage backed securities. Housing loans are not packaged up into sophisticated investment products for hedge funds and the bulge bracket banks to play around with. Moreover down-payments are actually required, unlike in the U.S. where sub-prime clients were able to get into a house with little or no money down, leading to a foreclosure crisis. Brazil is not even close to foreclosure crisis.
Strangely enough, despite the higher prices and red hot demand, many of Brazil's real estate developers are struggling. Homebuilder Rossi Residential reported a 2012 loss of 206 million Real (102 million dollars) and PDG Realty did even worse, losing 2.17 billion Real, close to a billion dollars last year.
Rising material and labor costs are some of the reasons for the loss, though a lot of it seems inexplicable.
Even Gafisa (GFA), the only Brazilian homebuilder traded on the NYSE, struggles to stay above 4 dollars a share. The stock is down 25.6% over the last 12 months and a whopping 77% over the last five years, all the while Brazilian housing prices were rising to where they are today: the fastest rising single country home market in the world.