Uruguay will go ahead with the re-gasification plant "with or without Argentina"
Tuesday, April 2nd 2013 - 02:42 UTC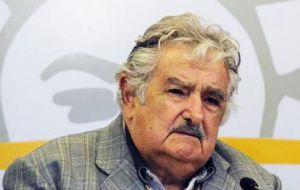 President Jose Mujica confirmed that the project for the construction of a liquid gas re-gasification plant in the River Plate coast, originally planned with Argentina, "will go ahead with of without the Argentine government".
"There is no going back or delays: the re-gasification is yes or yes; if Argentina wants to join great, fantastic, but if they can't we are going ahead no matter what", insisted the Uruguayan president.
Mujica said that the construction of the plant was 'inevitable' and the decision had been taken, which means that at the latest at the end of April, early May one of the four bidding consortiums interested in the project will be chosen.
"The plant will be relatively small at the start, a first module, capable of further modules in the future as we promote the use of gas in the domestic market for example in public transport, to ensure the profitability of the whole project and investment", pointed out Mujica.
Last August Uruguay formally announced the process for companies interested in the project, plant construction and operation, with a daily capacity of ten million cubic metres. The plant should be built along the River Plate, close to the capital Montevideo and will include the piers and jetties for the docking vessels plus the storage, provision and distribution system of the gas.
In exchange for building the plant the winning corporation will be in charge of running and managing the project for the next fifteen years and for which it will be paid annual fee.
Originally the plant was to be a shared project with Argentina and since 2010 the two governments held a raft of meetings and discussions on the issue, but Uruguay decided to go ahead with the project once negotiations stalled or hardly advanced.
Currently 63% of the energy consumed by Uruguay comes from crude and the government's plan is to have that figure down to 38% by 2015, when the current five year administration of President Jose Mujica comes to an end.
Uruguay imports all of the oil it consumes and the price of fuel is directly linked to the up and downs of the cost of crude in the international market. Several foreign oil companies have been exploring for oil and gas offshore and on land with promising prospects but it will take years before oil in commercial volumes is ever pumped.
Likewise Uruguay's main supply of electricity comes from hydro dams which are currently insufficient for the country's demand and their provision has become quite irregular because of the changing climate with peaks of extended drought, which makes planning power costs a challenging task