Argentina honours coupon and interest payments on sovereign bonds
Thursday, April 4th 2013 - 21:55 UTC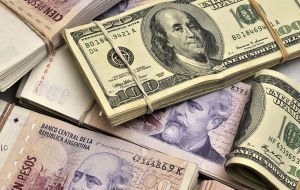 Argentina has made on Wednesday a scheduled coupon payment on its 2038 Par bonds and paid interest on its 2015 Boden bonds, the Economy Ministry's spokeswoman said. Investors are worried Argentina could trigger a technical default if a US appellate court rules against it in a case brought by "holdout" creditors suing for full repayment on bonds in default since 2002.
The coupon on the Par bond came due on March 31, but the government advised ahead of time it would make the payment on April 3 due to national holidays on April 1-2.
Argentina issued the Par bond during its 2005 and 2010 debt exchanges, accepted by about 92% of creditors who had held defaulted Argentine paper.
On Wednesday morning, a US based hedge fund bondholder confirmed the Par coupon payment had been made. Banking sources in Buenos Aires also said interest was paid on both the Par and the Boden bonds. Argentina's credit default swaps and bond yields fell sharply on signs that a technical default had been averted at least until its next bond coupon payment, due in June.
Hedge funds NML Capital and Aurelius Capital Management have sued Argentina for 1.3 billion dollars in payments on the defaulted bonds. Last Tuesday, a US appeals court gave the funds until April 22 to respond to a payment offer made by Buenos Aires.
While the funds are unlikely to accept the proposal, which would pay them a sixth of what they demand, the deadline in three weeks delays any definitive ruling from the court until late April, which allows Argentina to keep servicing its debt. The Boden 2015 was issued under Argentine law and is not seen as being at risk of default because it is not involved in the US litigation.
The coupon payment on the Boden is still good news, however, because it shows Argentina is willing to honour is debts and is still allowing payments to investors abroad, despite tough domestic currency and capital controls on the economy.