Falkland Islands' oil industry associate begins offshore production from Israel's major gas deposits
Thursday, April 4th 2013 - 18:37 UTC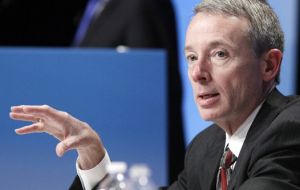 Houston based Noble Energy which also has interests in the Falkland Islands oil industry announced this week that the Tamar natural gas field offshore Israel has been successfully brought online with all five of the sub-sea wells now producing at stable rates totalling approximately 300 million cubic feet per day.
When combined with existing Mari-B volumes, the total current sales are nearly 500 MMcf/d and are expected to average 700 MMcf/d through the remainder of the year. Initial sales commenced on March 31 as natural gas flowed from the field to the Tamar platform and then to the Ashdod Onshore Terminal.
The development is designed to deliver natural gas rates up to 1 billion cubic feet per day (Bcf/d). Volumes will likely reach this maximum capacity during the peak summer demand in the third quarter this year.
Charles D. Davidson, Noble Energy's Chairman and CEO, commented, "In just over four years from discovery, the Tamar project is fully operational and delivering significant volumes of natural gas to Israel. The project is a technological and commercial milestone for Noble Energy and our partners. This is the third major global project we have brought online in the last 18 months and it will make a significant contribution to our continuing production growth. Building on this success, we are working with the government and our partners to sanction the next phase of development at Tamar and the domestic phase of Leviathan".
The gross resource estimate of Tamar has been increased to 10 trillion cubic feet (Tcf), up from 9 Tcf, as a result of development drilling and continued reservoir analysis and modelling. An independent assessment conducted by Netherlands, Sewell & Associates, Inc. supports the new resource estimate.
The Tamar development includes five subsea wells capable of flowing 250 MMcf/d of natural gas each. Natural gas flows from the field through the longest subsea tieback in the world for more than 90 miles to a platform near the existing Mari-B structure.
The Tamar platform is tied into the existing pipeline that delivers natural gas to the Ashdod onshore receiving terminal.
Noble Energy operates Tamar with a 36% working interest. Other interest owners are Isramco Negev 2 with 28.75%, Delek Drilling with 15.625%, Avner Oil Exploration with 15.625% and Dor Gas Exploration with the remaining 4%.
Noble Energy is also the operator of Mari-B with a 47.059% working interest. Delek Drilling has a 25.5%, Avner Oil Exploration holds 23% and Delek Investment has 4.441%.
Last August Noble Energy, through its affiliate Noble Energy Falklands Limited announced that it has entered into an agreement with Falkland Oil and Gas Limited under which it acquired an interest in FOGL extensive license areas consisting of approximately 10 million acres located South and East of the Falkland Islands.
Under the terms of the agreement besides financial contribution Noble will farm-in to the Northern Area Licences for a 35% interest except for two excluded areas. Noble will also farm-in to the Southern Area Licences for a 35% interest, with FOGL continuing as operator of these licences until no later than early 2014, when Noble will become the designated operator.