Falklands-related protests are common, warns the UK travel advice on Argentina
Thursday, April 4th 2013 - 22:15 UTC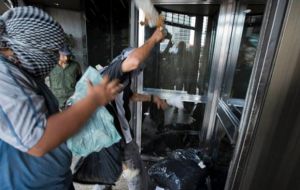 Most visits to Argentina are trouble-free, but you should keep a close eye on your personal belongings in public places and there have been occasional Falklands-related protests against British interests in Argentina.
"You should avoid all protests and demonstrations", says the latest UK foreign travel advice, adding that some Argentine provinces have passed legislation banning the entry to port of vessels supporting hydrocarbons activity in the Falkland Islands.
"There have been cases of disruption by activist groups and unions against British flagged shipping. If you are in charge of a vessel, make contact with your agent or the local authorities before traveling. Most cruise ships and visiting tourists should not be affected" points out the advice.
The travel advice states that Falkland Islands can generate strong emotions among some Argentines and "the issue has had a much higher profile recently and there has been an increase in the number of demonstrations outside the British Embassy and against British interests in Argentina. There is usually a demonstration at the British Embassy on 2 April each year - the anniversary of the Argentine invasion of the Falklands in 1982".
Demonstrations can take place at many public locations throughout Argentina. "You should monitor the media and avoid all demonstrations".
Among the common crimes listed for travelers to Argentina to be aware includes distraction theft, bag snatching and armed robberies.
"Keep a close eye on your personal possessions at all times. Avoid carrying large amounts of cash or wearing jewelry. Avoid isolated or poorly lit areas at night".
The travel advice says con-men have been known to rob tourists while an accomplice pretends to help remove ketchup or mustard that has been 'accidentally' sprayed on them. There have also been reports of thieves posing as hotel guests and snatching bags while tourists are checking into hotels or hostels. Another common tactic is slitting handbags in crowded places and snatching mobile phones while they are being used.
Passport thefts are common especially in Buenos Aires and Mendoza. Leave your passport in a hotel safe or security box and keep a photocopy of the details page with you at all times.
If possible, book taxis in advance. If you hail a taxi in the street, only use a 'radio taxi'. These have a clearly visible company logo on the rear passenger doors. If you are being met at the airport and you don't know your greeter, confirm their identity before setting off. Alternatively use a 'remise' service from the official stand in the centre of the arrivals concourse.