Capriles massive rally in Caracas but still trailing Maduro will less than a week
Monday, April 8th 2013 - 04:51 UTC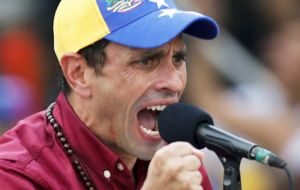 With less than a week for 14 April, hundreds of thousands of supporters on Sunday crammed Caracas' streets in what Venezuelan opposition presidential hopeful Henrique Capriles, trailing in the polls, called a fast-changing tide.
"Today, we are winning this contest," Capriles, the 40-year-old governor of Miranda state, told masses of faithful, despite polls showing him as many as 20 points behind acting President Nicolas Maduro.
Maduro, 50, is a burly former bus driver and ex vice president who was the anointed successor of late president Hugo Chavez before his death from cancer last month.
Opposition leaders say Maduro has used sympathy for Chavez and the late president's state political machinery to bolster his campaign. But Capriles, a telegenic distance runner whose female fans have endearingly nicknamed "Skinny," was not ready to give up based on polls.
And in fact, his mass support on the capital's streets had him professing confidence that victory, was within reach.
"Just three short weeks ago, they were saying that this was impossible," Capriles said, urging supporters: "Give me your vote of confidence, because I want for this country -- which wants change -- to be able to achieve it."
Capriles, in a wine-coloured shirt the colour of the national football squad's, spoke after masses of his backers thronged the rally from eight separate points around the capital.
He took aim at the Venezuelan government's close relationship with the Castro brothers' regime in Cuba, resented by many Venezuelans for the vast resources, billions of dollars a year, bestowed on Cuba, and fired.
"You can go ahead and win elections in Havana. I am going to win the elections here in Venezuela," Capriles said jabbing at Maduro.
Reaching out to supporters of the late president Chavez, Capriles also urged them to cross over to his side. "Vote for me," he said. "Nicolas (Maduro) is not Chavez; I am not the opposition," Capriles insisted. "I am the solution."
On Thursday Maduro accused the opposition of plotting to sabotage the national power grid to cause a blackout ahead of the election.
He repeated the claim on Saturday, adding that he was aware that one of the leaders of Capriles' Justice First party had met with an employee of the US Embassy in Caracas to discuss plans for "a general blackout" in the state of Bolivar, where most of Venezuela's electrical power is generated.
Maduro also put a curse on citizens who do not vote for him in next week's election, likening Capriles to Spanish conquerors fighting indigenous people in the 16th Century.
A centuries-old curse, said Maduro would fall on those who did not vote for him.
Wearing a local indigenous hat at a rally in Amazonas state, a largely jungle territory on the borders of Brazil and Colombia, Maduro said: "If anyone among the people votes against Nicolas Maduro, he is voting against himself, and the curse of Maracapana is falling on him."
He was referring to a 16th Century battle when Spanish colonial fighters defeated indigenous fighters decisively.
"If the bourgeoisie win, they are going to privatise health and education, they are going to take land from the Indians, the curse of Maracapana would come on you," the candidate underlined.