Euro crisis and protectionism anticipate a weak year for world trade warns Lamy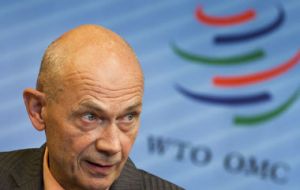 WTO Director General Pascal Lamy warned that 2013 could turn out even weaker than expected, especially because of risks from the Euro crisis as countries might try to restrict trade further in a desperate attempt to shore up domestic growth.
"The threat of protectionism may be greater now than at any time since the start of the crisis, since other policies to restore growth have been tried and found wanting," he said.
Lamy, who will step down at the end of August this year, called the 2012 growth rate "sobering".
Despite the hope of quickening trade this year and a provisional forecast of 5% growth in 2014, the annual rises are expected to stay below the historical trend of long-term growth, which was 6% for the 20 years leading up to the financial crisis but now stands at 5.3%.
"Traditionally we've reckoned on a 2:1 ratio of trade growth to GDP growth. This year it was 1:1 and we would expect to see that relationship re-establish itself" said the WTO's chief economist Patrick Low.
The WTO forecasts are based on global GDP growth of 2.1% in 2013, a consensus estimate that the WTO said was unchanged from 2012.
"Risks to the forecast are firmly rooted on the downside and are mostly linked to the sovereign debt crisis in Europe," the WTO said in a statement.