Opposition candidate claims Argentina owes Venezuela 13billion dollars in oil contracts
Wednesday, April 10th 2013 - 22:21 UTC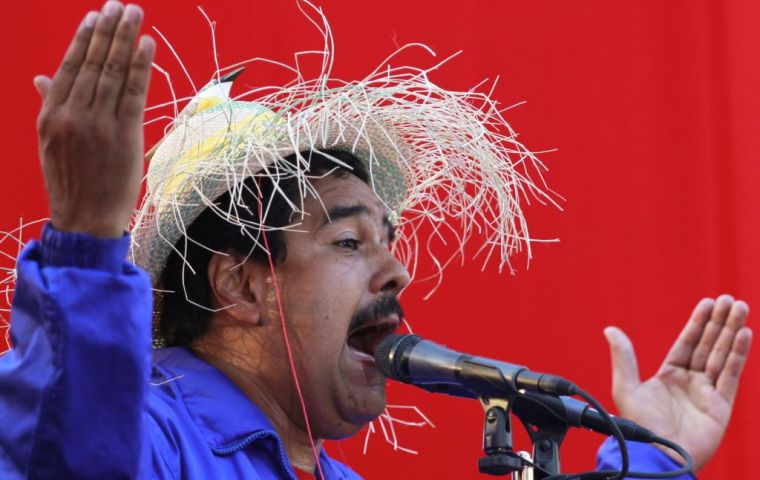 The opposition candidate in Venezuela's next Sunday's presidential again pounded on his country's foreign policy and claimed that Argentina has a pending debt of 13 billion dollars arising from oil contracts.
"Most of the economic problems that Venezuela is suffering are the result on an inefficient management of the country's plentiful resources and the 'money gifts' from the Hugo Chavez regime" said Henrique Capriles in a television interview.
Capriles on Sunday will try to defeat acting president Nicolas Maduro who was chosen by the deceased (March 5) leader Hugo Chavez as his successor, but first must be confirmed in the ballot box, something which most public opinion polls indicate as the most probable result.
"The Argentine government debt according to the oil contracts signed is estimated in 13billion dollars. If to this we add the 7billion handouts every year, the 15 billion which corruption takes from Cadivi (office that regulates and distributes dollars to pay for imports) and the 8 billion every year must be paid for food imports, how big is the bill?" asked Capriles.
"I'm no magician but I believe the resources of our country have been terribly distributed" in fourteen years of the Chavez administration, said Capriles who then accused Maduro "for having squandered 70 billion dollars overseas" to buy political influence.
"Who was the Foreign minister during the last six years, who opened Venezuela's cheque book to foreigners, who is the consented child of the Cuban government? Obviously the incumbent candidate" underlined Capriles.
Since Nestor Kirchner took office as Argentine president ten years ago a close political and economic alliance with Venezuela has been built to the extent that the Chavez administration became the main partner of all the bilateral treaties signed by the Kirchner presidential couple.
While Venezuela supplies crude and fuels (and at a certain moment was the only purchaser of Argentine sovereign bonds), Argentina sends food, provides farming technology and hopefully will be given a share of major infrastructure projects that is must dispute with Brazil.
Meantime candidate Maduro in a political rally turned up wearing a straw hat with an artificial bird standing out.
"Look how beautiful, it was a gift from an ex-pat in Nicaragua", said Maduro adding, "how pretty with a bird up there. It looks like a Vietnam hat from the Ho Chi Minh army".
Last week at the beginning of the campaign Maduro said that the deceased president Chavez had turned up to him in the form of a tiny chirping bird, a confession that triggered criticism from the opposition and extensive mocking in the social networks.
"I felt he was giving us his blessing saying 'today takes off the battle. Go for victory, you have our blessings'; that's how I felt it in my soul" confessed Maduro at the opening of his campaign in Barinas, Chavez homeland.