Controversy over the cost of the funeral; William Hague to the rescue
Thursday, April 11th 2013 - 18:18 UTC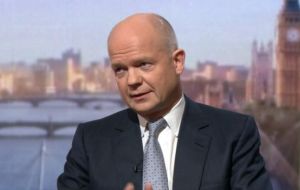 The cost of Lady Thatcher's funeral next Wednesday will be revealed afterwards, but the Daily Mirror has estimated it could be as high as £10m. The taxpayer is expected to foot most of the bill, with the Thatcher family agreeing to make an unspecified contribution.
Foreign Secretary Hague said Britain could "afford" to cover some of the costs.
Speaking on BBC One's Breakfast program, he said: "When it comes to money, the rebate she negotiated for this country from the EU has brought us so far £75bn, which is twice the size of our annual defense budget.
"I think that puts money in perspective ... so I think we can afford to contribute to a funeral."
Margaret Thatcher is receiving a ceremonial funeral with military honors, in common with the Queen Mother in 2002 and Princess Diana in 1997. She turned down the option of a full state funeral and fly-past on cost grounds, but the policing bill could still add up to £4-5m.
The funeral procession will travel from parliament to St Paul's Cathedral, where the service will be held.
The two-mile route will be lined by servicemen and women from the army, navy and RAF, and the ceremony will be attended by the Queen, the first time she will have been to a former prime minister's funeral since wartime leader Sir Winston Churchill died.
Members of Parliament MPs returning early from overseas visits will be able to claim up to £3,750 in travel expenses, the Independent Parliamentary Standards Authority said this week. This is because parliament is being recalled during the Easter recess.
The maximum £3,750 available to MPs is meant to cover the cost of returning to their holiday destination if they want to do so.