Argentina inflation congress index for March was 1.54% and 24.43% in last 12 months
Friday, April 12th 2013 - 06:39 UTC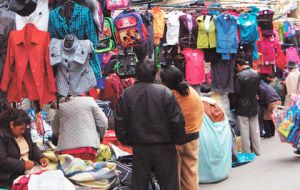 Despite the efforts from the administration of President Cristina Fernandez that brokered a price freeze for another two months with the main supermarket chains of Argentina, March inflation according to the average of private estimates stood at 1.54% and 24.43% in the last twelve months.
The result which has become a monthly event was presented by the opposition members of the Lower House Freedom of Speech Commission, that work with an average of the estimates from private consultants, who are liable to strong fines if they make public their numbers without the government consent.
The Congress committee announced the 1.54% for March and 24.43% for the twelve months to March.
A year ago the so called Congressional index had reached 2.31% which means consumer prices in Argentina are climbing at a slower pace, mainly food and beverage (Supermarkets agreement) and which represent a significant component for the overall average. It is estimated that over 40% of food and beverage sales are concentrated in supermarkets and thus exposed to the freeze.
However trade union and some provinces stats estimates indicate that during March fresh produce, mainly vegetables, fruit, poultry, dairy and meat did experience some minor changes.
But the main components influencing the March index were education ad clothing. This is traditional in Argentina since it is the month when children return to school and there is additional spending in stationery, uniforms plus the fact it is the beginning of the winter clothing season.
Nevertheless despite the moderation in price increases the overall feeling is not satisfactory according to the March Expectations survey from the Torcuato Di Tella University. In effect the survey shows that inflation for the next twelve months is expected to hover in the range of 30%.
The controversial official Argentine government stats office Indec is expected to release its March inflation index on Friday. In February the Indec index was 0.5% which was less than half the 1.23% average reported by the Congressional index.