Argentina's Antarctica flagship 'Almirante Irizar' remains 'grounded' in controversy
Friday, April 12th 2013 - 06:35 UTC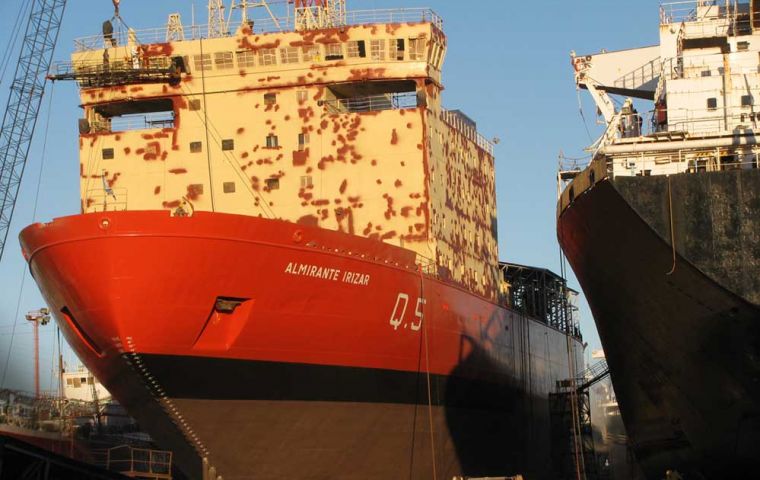 Six years ago this week Argentina's icebreaker 'Almirante Irizar' and symbol of the country's presence in Antarctica caught fire and was an almost loss. The government pledged to have the vessel back sailing in a couple of years but now it has surfaced that only 50% of repairs have been completed and the whole enterprise is involved in deep controversy.
Argentine Defence minister Arturo Puricelli has promised that next year the emblematic icebreaker will begin sea trials, but according to congressional reports it is hard to see this happening given claims of operational errors, administrative irregularities and even probably acts of corruption.
Opposition lawmakers have stated that with all the money invested so far in the repairs, over a hundred million dollars, a new icebreaker could have been purchased and all the problems facing the Argentine Antarctic campaign since the fire back in 2007 could have been overcome.
The lawmakers claim that this month the technical advisor of the Tandanor shipyard where the Irizar is under repairs was removed following complaints about the disarray of the whole operation.
Likewise at the end of December Minister Puricelli rescinded the contract with Swiss ABB arguing the work budget was excessive. However it was also revealed that the ABB budget had to cover initial errors committed when repair works started. Anyhow ABB is considering demanding the Argentine state for breach of contract.
Under the original contract sea trials should have taken place 17 October 2011 with Cristina Fernandez and Nestor Kirchner on board, but the death of Kirchner and a cabinet reshuffle forced a suspension of the whole ceremony.
Opposition lawmakers anticipated they would be asking the Argentine ministry of defence an urgent appraisal of the situation, the real state or repairs, budget management and who are ultimately responsible for the delay and over expenditure.