Falkland Islands' delegation received in Latam with open doors and genuine interest
Saturday, April 13th 2013 - 01:32 UTC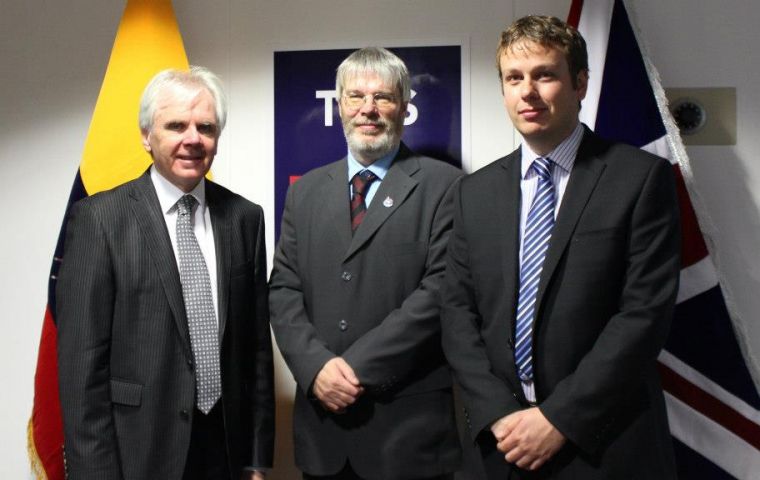 Latinamerican members of government, opinion formers and academics have been genuinely interested in hearing the Falkland Islanders' point of view and the recent referendum results, revealed Member of Legislative Assembly (MLA) Gavin Short.
Together with radio journalist Stacy Bragger they are currently touring the region, and so far have visited Bolivia, Peru, Costa Rica, Ecuador and El Salvador.
"I was fully expecting some very pro-Argentine arguments to be put to us in one or two of the countries and perhaps doors to be closed. In fact the very opposite happened" said MLA Short who described the trip "very much worth it".
"We have met very many people on this trip, including members of governments, opposition figures, opinion formers, academics, the press (both print and TV), not to mention a plethora of ambassadors from many countries through to university students and an online Q&A session…"
MLA Short said audiences seemed to be "paying much attention to our descriptions of how our Islands function, our referendum and our demolition of Argentine myths and downright untruths," especially when backed by historic documentation.
The trip was not crafted to be a deep relationship building exercise and rather the initial foray was designed to be high speed, high impact incursion.
However "it succeeded way beyond my wildest expectations and we have actually already started building initial contacts and relationships. The groundwork has now been done that will make any further, more sedately paced visits easier to do, and fruitful."
But MLA Short feels it will not be an overnight process, but, "since our referendum some peoples' views are changing and if not questioning the long established Argentine version of events". Likewise will take time – but time and the truth is something that we have on our side.
He underlined that taking a young Islander was a real bonus "and Stacy Bragger, because of his media background was a God-send and he certainly did his country proud. There were occasions when the voice of an ordinary citizen was far more powerful than that of a wrinkly old politician as people expect us to say certain things. When an ordinary person freely expresses the same opinions most eloquently then real attention is paid."
At the beginning of the tour they encountered an Argentine ambassador: "He walked past us as he came off the set and never even acknowledged our presence.
"I have made a point of telling people in all countries that we visited that we would like nothing better than a live debate with an Argentine Ambassador on national TV or radio" said MLA Short.
"All in all I believe this trip was worth it, and we must keep returning. It may not work in all cases but as proved by other MLAs who were operating further North in already prepared ground, there are countries in which you can make a real difference".