Capriles won't accept presidential result until "every vote is recounted, one by one"
Monday, April 15th 2013 - 06:39 UTC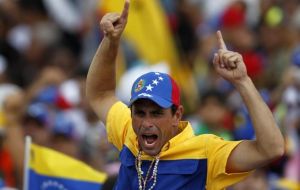 Denouncing election irregularities, Venezuelan opposition candidate Henrique Capriles Radonski demanded a recount and said early Monday that he will not recognize the country's presidential results "until every vote is counted". His comments came less than an hour after officials said the man former Venezuelan President Hugo Chavez handpicked to be his successor had won the country's presidential vote.
With 99% of votes counted, Nicolas Maduro won 50.66% of votes, National Electoral Council President Tibisay Lucena said, calling the results "irreversible." Capriles won 49.07% of votes, she said.
"We are not going to recognize the result until there is a recount to the last vote of the Venezuelans, one by one. We demand that the National Electoral Council, CNE, opens all ballot boxes and each vote counted" said Capriles during a press conference.
"I am a convinced democrat, a fighter and have always respected the will of our people. The people today spoke and that result is not reflected in the will of the people. That is the truth about Venezuela, and I want truth to be known, so Mr. Maduro, if before you were illegitimate, you're more than loaded with illegitimacy now", warned Capriles.
"We demand an audit, vote by vote. The difference is too small". He added that 'if you add all the incidences and overseas votes, and in some voting places, we're talking of 300.000 votes that have been affected (by irregularities) besides other vices such as groups bullying voters, so if we add up the whole list, we're talking of a different process".
Capriles added that "our intention has been distorted" and underlined, "I don't negotiate and I don't make deals with nobody, and I'm saying this to you on the strongest terms. The results announced do not reflect the reality of what the Venezuelan people want and aspires for this country"
"I'm going to do everything possible so that this country changes. If before I was encouraged to fight, today you gentlemen of the government are giving me even more will to continue this fight".
Capriles said that "today we fought against the use of all public resources, the abuse of institutions, of everything that means power, and I'm telling you very strongly that this fight is not over. This fight will end the day Venezuela is prosperous".
The opposition candidate made special mention and thanked the over million votes from the government's party that supported Capriles. This shows what is going on in Venezuela, that the country is waiting for a reply. We must set free the political prisoners, improve salaries, we must take measures that benefit the people, we must turn around this package of nonsensical measures. The people has spoken with conviction".
Addressing the Electoral council Capriles said that "peace in the country and the future of Venezuela lies in the fact that truth is known. I hope you will choose the door you wish to exit. I sincerely hope you give us the chance to know the real truth".
Finally in direct reference to Maduro, "I'm telling the candidate. You are the defeated here, today; you and your government, and I'm saying so with the outmost strength."
Fireworks erupted over Caracas as Maduro spoke to cheering supporters, calling on Venezuelans to respect the results and respond peacefully.
"I have won by nearly 300,000 votes. It is the decision of the people," he said.
Far beyond Venezuela's borders, voters lined up at diplomatic offices around the world.
Venezuela's National Electoral Council says that more than 100,000 Venezuelans are registered to vote abroad at diplomatic offices in 88 countries. There are more than 37,681 Venezuelans registered to vote in the United States, according to government figures.
In addition to representatives from national organizations serving as observers, Venezuela's National Electoral Council says 170 foreigners have been invited to witness the elections in Venezuela. The international group includes delegations from the Union of South American Nations and the Atlanta-based Carter Center.
Authorities detained 43 people Sunday for alleged electoral crimes, Maj. Gen. Wilmer Barrientos told reporters. But elections officials said Sunday evening that the day had proceeded smoothly without major incidents.
"It has developed with total normalcy, with total calmness," said Sandra Oblitas of the National Electoral Council.