Margaret Thatcher: Some Personal Memories
Wednesday, April 17th 2013 - 07:50 UTC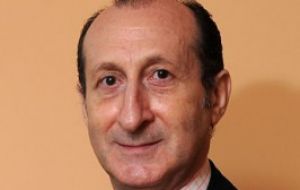 By David P. Michaels - I was, naturally, sad to hear the news about Lady Thatcher, but cheered myself up by remembering some wonderful, private moments with her, rather than the state of her health these recent years and her subsequent death this past week.
I was first introduced to her by my dear friend, Sir Alan Walters. Some may recall that Sir Alan was Prime Minister Margaret Thatcher's influential economics adviser, whose appointment, close friendship and influence led, in 1989, to the resignation of Chancellor Nigel Lawson.
A dinner party had been arranged by "Paddie" Walters, Alan's wife, to celebrate Alan's Birthday. Prior to the dinner, Alan paid me what I will always consider, a most treasured compliment. He said, "Margaret will like you for the same reason she likes me! You're not a 'Yes' man … and you are direct. You tell people what they need to hear, not always what they would like to hear."
After the main course, Lady Thatcher wandered around the dining room and then approached me and stated, "Hello! My name is Margaret Thatcher." I replied, "I thought your face was familiar." We laughed. I was so touched by this great lady's warmth. A warmth that will last as long as I am able to remember her.
Another fond memory is when I first introduced Lady Thatcher to my wife, Teresita. It was at a small private cocktail-party held prior to a fund-raising dinner. I had just introduced them to each other, and whilst they were chatting, I was discreetly reminded that there was a very time-sensitive schedule due to media coverage of her speech. I politely suggested that they could chat later, although I did want to state that this was one of the most significant nights of my life. Lady Thatcher looked at me in a most puzzled manner and asked me, "Why?"
My 'poker-faced' reply was, "Because I have both the women in my life in the same room, and at the same time!" Lady Thatcher and Teresita both burst into laughter, whilst the 'stuffy' gentleman escorting her around the cocktail-party was flabbergasted to witness such a remark. It was one of my fondest memories!
She was one of the greatest leaders in recent history. May she rest in peace.