IMF admits price-asset bubbles tells Latam financial sector 'to keep their guard up'
Thursday, April 18th 2013 - 02:47 UTC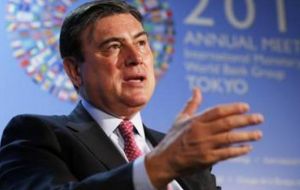 The International Monetary Fund (IMF) stated on Wednesday that both financial and banking sectors in Latin America "should keep their guards up" before the recent and fast growth of the credit, though the lender doesn't see any overheat of the region's economy.
During a press conference in which the latest Global Finance Stability report was presented, the IMF's Director for Monetary Affairs, José Viñals, indicated that "Though there's been a significant growth of the credit availability during the past years in Latin America, it would be convenient for the banking sector to be alert as it could lead to slowness in paying in a near future, something that had already occurred in the past as consequence of a fast credit expansion."
Likewise, the IMF official explained that a large debt leaves countries defenceless before brusque cash flow variations.
The easy monetary policies have been "essential" to support the economies but, if they are used over a long time, they could create "excessive risk-taking and asset bubbles," Viñals said.
"Borrowing in international markets by corporations in emerging markets has been growing at a rapid pace, exposing them to currency risk and leverage," he said.
"Emerging markets need to keep their guard up against deteriorating bank asset quality and disruptive capital flows" Viñals added. "They should prevent the build-up of excessive leverage and the build-up of asset price bubbles."
But he did not encourage the use of capital controls, a measure preferred by many policymakers in emerging countries, saying that flexible exchange rates, the level of foreign exchange reserves, adjustments in the monetary and fiscal stances and macro-prudential policies could be used instead, to counteract the negative effects of capital flows.
"Let's also remember that capital flows bring benefits" Viñals said. "Admittedly sometimes if there is too much capital coming too quickly it may pose problems in terms of overheating."
The IMF, which before the crisis regarded capital controls as anathema, has changed its position since, and now believes that if they are targeted and temporary capital controls could be used to ensure financial stability.
Asked whether there were signs of a bubble forming in Latin American assets, Robert Sheehy from the IMF Monetary and Capital Markets Department said: "there are some hot spots, but we don't see any generalized bubble or signs of overheating."